PRESS RELEASE
Inc. Magazine's Hire Power Awards Recognizes America's Leading Job Creator and Rigid Industries
---
Rigid Industries LED Lighting ranks #10 in manufacturing job creation in U.S.
Phoenix, AZ - Phoenix-based Rigid Industries LED Lighting is featured in the 2nd annual Inc. Hire Power Awards, recognizing the private businesses that have generated the most jobs in the past three years in the U.S.
Rigid Industries LED Lighting had a 55% growth in new jobs, placing it among the top 6 private business job creators within Arizona and top 10 in manufacturing in the United States. Last month, Inc. magazine recognized Rigid Industries as #150 for Fastest Growing Private Companies in the U.S. as well.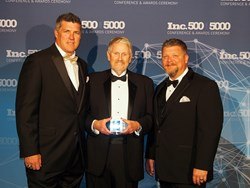 "Rigid is proud to be recognized for designing, engineering and assembling our products in the USA and takes employing U.S. workers and hiring U.S. vendors seriously. If you create the best technology, treat your employees well and listen to your consumers, your company growth will reflect on it" says Jason Christiansen, President / CEO of Rigid Industries.
The Bureau of Labor Statistics reports that only 222,000 full-time jobs were added in 2012—compare those numbers to the honorees of the Inc. magazine's HIRE POWER AWARDS, which created 69,182 jobs between January 1, 2012 and June 30, 2013.
"The Hire Power Awards are the only awards that single out job creators. We think it's fitting to pay tribute to company founders not just for their business prowess but also for their immense contribution to the welfare of U.S. workers and the vitality of the U.S. economy" says Eric Schurenberg, Editor-in-Chief of Inc.
Rigid Industries LED Lighting is among the 437 private growth companies that are Hire Power Awards honorees, leading the way in creating more American jobs. While the honorees are found across the country in 25 categories, industries with the most Hire Power companies include health, financial services, manufacturing, software, human resources and IT services.
The Inc. Hire Power Award is for US-based, private companies (both for profit and non-profit). Companies must have been founded in 2011 or earlier and have employed at least 10 full-time US-based employees as of December 31, 2012. Companies must complete the Employee Verification Report. Top award finalists may also be asked to provide their 2012 EEO Employer Information Report.
Award categories include most jobs created in the US, most jobs created by state, most jobs created by industry and highest employee growth percentage,). Companies featured in Inc.'s November issue represent the top tier winners for the Higher Power Award and a complete list of the winners can be found on http://www.inc.com/profile/rigid-industries.
About Rigid Industries: 
Thanks to its unparalleled patented Hybrid, Specter and new Hyperspot optics and its torture-tested housings, Rigid Industries® is a world leader in the forward projecting LED lighting industry. Rigid LED lighting products can be used in a plethora of applications across industries such as: agriculture, construction, emergency response, industrial, marine, military, mining, and off-road and power sports. Rigid Industries® is committed to providing innovative technologies and always guarantees a quality product which has been designed, engineered, and assembled in the USA. For more information and a comprehensive list of products, visithttp://www.rigidindustries.com or follow the company on Facebook, LinkedIn, and Twitter.

Request more info from Rigid Industries
Thank You!