PRESS RELEASE
Streamlight® introduces Dualie® Rechargable Magnet
---
Dual-Function Rechargeable Light is Intrinsically Safe; Permits Hands-Free Use
EAGLEVILLE, Pa. – Streamlight® Inc., a leading provider of high-performance lighting, introduced the Dualie® Rechargeable Magnet, a lithium ion battery-powered rechargeable LED flashlight that is safety rated for use in Division 1 environments. The new dual-function light features both a forward-facing spot beam and side-facing flood light for use individually or simultaneously for optimizing navigation and eliminating blind spots. The new light also can be used hands free through the use of integrated magnets that grab onto steel surfaces.
"Industrial technicians, first responders and many other workers rely on their flashlights to perform safely under the most hazardous conditions," said Streamlight Vice President, Sales and Marketing, Michael F. Dineen. "The Dualie Rechargeable Magnet gives them that assurance, whether they are working in confined spaces, industrial settings or emergency scenes where flammable substances may be present. Professionals also will appreciate the light's flexible options, whether using it for close-up inspections or for illuminating work areas. And combining both the spot and flood beams can"help you see what's ahead and around you so you can avoid slips, trips and falls."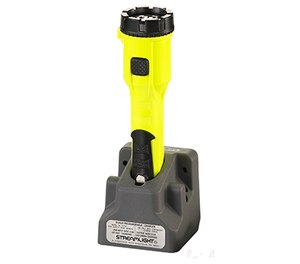 The Dualie Rechargeable Magnet features opposing switches for easy, one-handed beam operation. It includes an integrated, non-protruding, spring-loaded belt clip that conforms to the light's body, while easily grabbing onto shirts, pockets and other gear for hands-free use. Two integrated magnets, one on the top of the clip and the other on its tail end, provide easy attachment to metal surfaces for hands-free lighting.
The new light features three output modes. Its LED spot beam enables technicians to illuminate objects at a distance, such as overhead pipes or utilities, while its LED flood beam is designed for close-up work. The two beams also can be used together to create an uninterrupted light pattern that delivers 275 lumens for enhanced safety.
Featuring two white power LEDs, the light's spot beam features a smooth parabolic reflector for a tight beam with optimum peripheral illumination, while the flood beam produces a wide, soft beam for illuminating work areas. In spot mode, the light delivers 180 lumens, 11,500 candela and a 171-meter beam distance; in flood mode, it offers 105 lumens, 60 candela and an 18-meter beam distance. When used together, the two intersecting beams provide 275 lumens.
Run times for the Dualie Rechargeable Magnet are 7.25 hours for spot mode, 13.5 hours for flood mode, and 5.5 hours when the beams are combined.
The new light is powered by a 2600 mAh lithium ion battery that fully recharges in eight hours in a convenient charging base. Fabricated from an impact and chemical-resistant Engineered Polymer resin that is virtually indestructible and non-conductive, it features a body with a rocky stipple texture for a sure grip and maximum hand comfort. The light measures 7.5 inches long and weighs 7.09 ounces.
The Dualie Rechargeable Magnet is IP67-rated for dust-tight and waterproof operation to one meter for 30 minutes, and is impact-resistant tested to 2 meters. It has an operating temperature range of -20°F to +130°F, permitting usage under a wide variety of weather conditions.
The new light has an MSRP that ranges from $100-$125, depending on the configuration, and is available in high visibility yellow or black. It is available with an optional rubber helmet or mounting clip for use with hard hats, and comes with Streamlight's Limited Lifetime Warranty.
About Streamlight
Based in Eagleville, PA, Streamlight, Inc. has more than 40 years of experience making tough, durable, long-lasting flashlights designed to serve the specialized needs of professionals and consumers alike. Since 1973, the company has designed, manufactured and marketed high-performance flashlights, and today offers a broad array of lights, lanterns, weapon light/laser sighting devices, and scene lighting solutions for professional law enforcement, military, firefighting, industrial, automotive, and outdoor applications. Streamlight is an ISO 9001:2008 certified company. For additional information, please call 800-523-7488, visit streamlight.com or connect with us on facebook.com/streamlight; twitter.com/Streamlight; instagram.com/streamlightinc; and youtube.com/streamlighttv.

Request more info from Streamlight, Inc.
Thank You!