GLEN BURNIE, Md. — Holmatro, a worldwide leader in innovative and power hydraulic equipment manufacturing, has introduced its newest rescue tool, the new 5160 combi tool. The new multifunctional 5160 provides the highest force, the largest spreading distance, the biggest cutting opening and the lowest weight in its class. The 5160 joins the line-up as the third combi-tool in Holmatro's 5000 Series.
"The 5160 offers so many advantages, it won't be long before this product is the new standard in heavy duty, multifunctional rescue equipment," said Fran Dunigan, Holmatro product manager.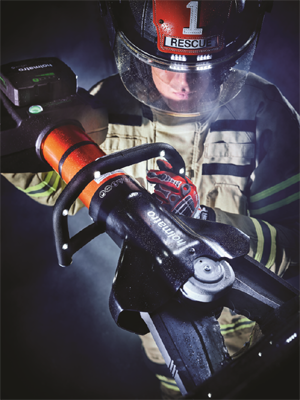 The 5160's unique grip-tooth design provides extra bite for cutting while preventing wider materials from being pushed out of the blades. Removable spreading tips finish a cut without crushing material between the tip. Reflective markings and pins that can't be fully removed provide extra assurance that parts and tips don't get easily lost. Additionally, the flat, centralized i-Bolt construction minimizes blade separation and maximizes cutting performance.
"The 5160 is built to perform multiple heavy-duty tasks including cutting, spreading, squeezing and pulling, providing responders with the flexibility they need in challenging rescue situations," said Dunigan.
The tool's lightweight design makes the 5160 easier to maneuver while large blades give responders the access they need. The Holmatro 5160 is available in both EVO3 cordless and CORE technology models.
About Holmatro
For half a century, Holmatro has been developing, producing and testing high-pressure hydraulic equipment for industrial, rescue and special tactics applications. Holmatro products are manufactured in the Netherlands and the USA at our state-of-the-art production facilities. Based on the needs of users, our products are known for their high quality and innovative technology. With Holmatro, it's safer, easier and quicker to save lives. Innovation, quality and service are at the heart of our company philosophy. Thanks to an extensive range of services including maintenance and training, our products last for years. That's why they are the tools of choice for rescue workers throughout the world. Once you use them, you'll use them for life. Holmatro sells and services these products through offices in various countries and an extensive dealer network. For more information on Holmatro, go to: www.holmatro.com.