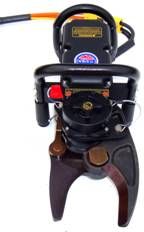 (Rockaway, NJ) – POWER HAWK Technologies Inc. is pleased to announce the production release of their new C-1604 Shredder rescue tool cutter for motor vehicle accident emergency rescues, that slices through the high-strength construction materials that are used in today's new cars and trucks. The Shredder cutter is a "plug and play" add-on to the POWER HAWK® P-16 Rescue System, a patented battery-powered and gear-driven (non-hydraulic) rescue tool that provides unique interchangeable spreader and cutter attachments.
The C-1604 Shredder was developed to handle the increasing challenges faced by rescue personnel during vehicle extrications, due to new car designs and the tougher materials used that provide greater protection to its passengers in the event of a crash. Engineered to be lightweight and yet produce enormous cutting forces, the Shredder attaches to the P-16 Rescue Tool in just seconds, providing the power and expanded versatility for getting the job done.
"Auto manufacturers are constructing safer vehicles by using stronger reinforced steel," said William R. Hickerson, President of POWER HAWK Technologies Inc. "That's good news for drivers and passengers but can cause problems during vehicle extrication. Our new cutter is designed and built to sever through the construction materials used in current and future vehicles – to help first responders save lives."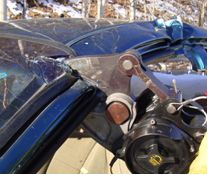 The C-1604 Shredder is cost-effective, especially for POWER HAWK® customers who can simply add the Shredder cutter attachment to their existing P-16 Rescue System. The P-16 Rescue Tool is extremely powerful and uniquely versatile. This lightweight and portable all-electric, non-hydraulic "jaws" type rescue tool uses aerospace gear technology and 12 Volts DC power to deliver its enormous forces. The system is ideal for: vehicle extrication, aircraft rescues, damage control, collapse rescues, remote rescues, indoor and confined space operations, forcible entry, special operations, and rapid intervention teams.
For more information about the POWER HAWK P-16 Rescue System or the new C-1604 Shredder, call 800-PWR-HAWK or 973-627-4646 or visit www.powerhawk.com.
POWER HAWK Technologies Inc. provides innovatively engineered rescue tools to help first responders worldwide save lives faster, safer, and more efficiently. Born from the pioneering Curtiss-Wright lineage, the company's rescue equipment delivers legendary standards of excellence, putting superior tactical power and versatility in the hands of firefighters, military, law enforcement and EMS personnel. In addition to rescue tools, POWER HAWK offers its Swench manual impact wrenches for use in military, aircraft, and industrial applications. Customers know they can count on the POWER HAWK team for 24/7 support and an undaunting commitment to total customer satisfaction. For more than 20 years, POWER HAWK Technologies has been honored to play a part in the life-saving role of the everyday heroes who put their own lives on the line, day in and day out.