Fire truck maker enters steel aerial market
After a lifetime of building aluminum trucks, E-One rolled out a 105-foot steel tower
---
OCALA, Fla. — If you are looking to grow your business and believe the market will remain largely stagnant, you'll need to capture existing market share.
That's the conclusion fire truck manufacturer E-One arrived at when it surveyed the aerial fire truck landscape during this prolonged economic downturn.
So the company known for its aluminum construction looked at capturing sales from fire departments who prefer steel aerials to aluminum. In fact, E-One's founder, Robert Wormser, was an expert at making things from aluminum and decided to apply that skill to the fire truck market in 1974.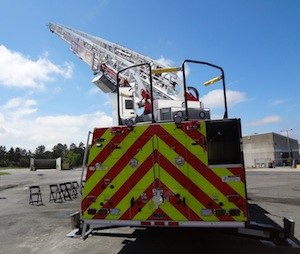 E-One estimates that 65 percent of the aerials sold in the U.S. have steel ladders.
Yet making the jump to steel isn't as simple as swapping out raw material and slapping some paint on the finished product.
There is the issue of steel not having the same level of strength as aluminum, it's added weight and the need to design and build a completely new manufacturing process.
To that end, they brought in Jim Salmi, who's not just an expert in aerials, but in steel-ladder aerials. Salmi serves as director of aerial products development.
Jay Johnson, E-One's vice president of sales and product management, said that during an early planning meeting he sat next to Salmi wondering just how they would go about incorporating a new manufacturing line into their existing operation. When he shared those concerns with Salmi, he showed him not only his drawn out plans for what to build, but all the steps to build it.
One of their first decisions was to use Domex steel, a lighter, high-strength steel that's less brittle than other high-strength steels. This meant making a large investment in enough raw Domex to ensure they'd not have supply-chain issues.
To compensate for the added wear-and-tear associated with the heavier material, they designed a roller system to extend and retract the ladder sections. These series of rollers require no lubrication, which cuts out an often difficult-to-accomplish maintenance issue. The rollers also dampen vibration and bouncing during road travel, which Salmi says will extend the ladder's life.
Engineers also opted for a fiberglass-reinforced polymer material for slip-resistant guards on the rungs. This, Salmi says, is more durable than rubber.
The other business reality confronting E-One was the selling price. Johnson says they entered planning for the steel ladder with the goal of pricing it at or near the aluminum-ladder trucks. Part of how they achieved that was by keeping everything from the turntable down, the same on both aerial versions.
We want it to be like a decision between a Ford and a Chevy, one of pure preference, he said. And Johnson thinks the steel choice will boost sales of its aluminum ladders.
Those who would never consider an aluminum ladder may give them a closer look when they are here looking at our steel ladders, Johnson says.
E-One just began taking orders for its steel ladders and will have one on display at FDIC. Currently the steel-ladder versions are only available in tip configurations, but steel buckets are in the works.
The steel ladders can be outfitted with monitors, lights, tip ladder and monitor controls, and foot pegs with tip controls. They can be equipped with a breathing air tank and connection, but Salmi says that will be more common once the bucket versions are available.
The steel ladders are rated to hold 500 pounds and will flow 1,000 gallons per minute through the plumbing. 

Request product info from top Fire Apparatus companies
Thank You!