Where MRSA hides and how to fight it
Measures firefighter should take as study shows Methicillin Resistant Staphylococcus aureus can be found on apparatus, PPE and in the firehouse
---
By Ed Nied
Deputy Chief of Safety and Health
Tucson Fire Department
It's important sometimes to give attention to the little things — like bacteria. It may sound a bit boring and maybe not worth the time, but a small amount of effort can go a long way in protecting you, your co-workers and your family.
In 2007, the Tucson Fire Department and the University of Arizona College of Public Health engaged in a study to investigate Methicillin Resistant Staphylococcus aureus (MRSA) in the firefighter and EMS provider environment. The results were shocking in that we found it in a lot of places —where you sit, sleep, live and eat.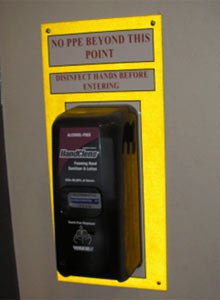 This began a cascade of interventions that have resulted in an amazing decrease in exposure. This is a bad bug and it's getting worse; mutating. The reason it can hurt the healthy is that it has a gene that can give it the ability to kill white blood cells, those things we need to fight the infection it is causing. Double trouble.
This article will cover how to reduce the risk within the firefighter environment to include apparatus, but first some background. In the past two years there have been at least two documented firefighter deaths due to MRSA and countless lost time, significant surgeries, hospitalizations and lengthy treatments that can make you sick enough to want to quit them.
Recent death
The latest death was just a few weeks ago and involved a young, healthy firefighter who initially believed he had "tweaked" something in his back. When it did not go away, soon included a fever, and actually worsened within 24 hours, a trip to the chiropractor for an adjustment was in order.
Once there, a syncopal episode revealed low blood pressure due inevitably to sepsis and pneumonia. A few short hours later, death. This story is a dramatic repeat of a 2007 firefighter death where "only the name needs changed."
It is believed the firefighter and EMS environments are a unique crossover of population in that we are exposed to the two main groups of MRSA: Hospital Acquired MRSA (HA-MRSA) and Community Acquired (CA-MRSA). This is true due to the fact that we spend time in hospitals as well as are exposed to those patients who have CA-MRSA upon response to medical emergencies or who have had HA-MRSA prior to release and now are in need of pre-hospital intervention.
So, what to do? There a numerous items that can assist, but here is a basic list:
Pre-response knowledge
Where possible, crews should know if there is a potential for infectious disease prior to arrival, so they can be protected upon arrival, not after they find out once the patient has been engaged physically. Three pre-arrival questions can assist:
1) Does patient have cough?
2) Does patient have fever?
3) Does patient have communicable disease?
If dispatch finds a "yes" answer to any of these, they merely only need to say "Engine 1, there is a positive response to pre-arrival questions," or put it on the KDT/computer. No HIPAA issue this way. Now it is the company officer's responsibility to assure those within the 3'-6' "spittle" range are properly protected with a minimum of gloves, glasses, and mask. Gowns, sleeves, etc. are recommended if making contact with immediate patient environment.
Education
Knowledge is power and our personnel deserve to be "empowered." The U of A, Tucson Fire and Western Fire Chiefs have placed a free to all MRSA Training Tool that can be found at wfca.com. This tool will also give you a printed certificate of training in case your local fire/EMS leaders will allow for use as CE.
Personal hygiene
Washing of hands is and always will be number one to decrease risk. A minimum 15 seconds with soap and warm water and where that is not possible, use of benzalkonium chloride or alcohol-based (min. 60 percent) products. However, these products are not a replacement, but a bridge to hand washing. Changing of clothes if exposed to an infectious environment, and wash them at the station — DO NOT take them home.
Station hygiene
Draw a line in the station sand — designate clean and dirty areas. A good start is every place the apparatus bay meets the living area. Place hand cleaner dispensers at each entry point. Make sure you are using a disinfectant that meets EPA H list for MRSA. Many of these have minimum of 10 min. kill times, but there are others that are as low as 3 min. Also, no cloth and no carpets. It may sound crazy, but it is true. MRSA has been proven to live a long time in dust and not the warm, moist environment that we would normally think of bacteria needing to survive. It is recommended to use a furniture covering that is cleanable with disinfectants. In Tucson, we use RAVE3® with Permablok™ and have had huge success:
Prior to re-covering: 664,000 MRSA found on cloth couch.
After: Zero, zippo, nada — an obvious improvement
Apparatus
Our other, other home. If you follow one MRSA bug (by the way, it only takes 10 to make you real sick) from the patient's bed, to our knee, EMS jump bag, or monitor … to the apparatus and our gloves, to the stations, to our dorm room and station furniture … well, you get the picture. You have to break the chain that leads to these exposures.
Begin with the design of apparatus. It is a fact that metal (particularly stainless steel) is a deterrent to the propagation of bacteria on surfaces. So the more metal you have, the less exposure. Painted metal is OK, so long as it doesn't chip, because this creates voids where bacteria can grow.
Also make sure the coverings of seats, engine cowlings, etc. are made of a product that can take the abuse of a disinfectant. NO CLOTH SEATS, NO CARPETS in apparatus. Vinyl type seats such as Imperial 1200 and Polydamp® flooring are a few choices.
Use disinfectant at least once per day minimum, and don't forget the steering wheel, door handles (in and out), floor and other regular touch areas. Equipment should also be disinfected where it cannot be damaged by product.
Don't wear turnouts on EMS calls
I know, heresy, but you don't and can't wash them as often, and you cannot dryer them or put them in sunlight. The greatest kill comes from the dryer, not the washer. So come up with a protective EMS pant instead. If you can stomach the thought, it is also best to not store turnouts inside the cab. Not just because of the infectious issues, but the mere off-gassing of products of combustion is dangerous and being found more and more a possible cancer cause.
Ambulances need a more rigorous disinfecting regimen. It is recommended to use the disinfectant on contact areas after EVERY call. This means you need to engineer a process to assure kill times are adhered to, otherwise you are giving yourself (and your two families) a false sense of security. Airing the apparatus out, venting and using coverings for equipment where available can assist.
This is a short list of items you can employ to reduce the chance that this and other up and coming mutating and antibiotic resistant bacteria do not find their way into you, your family at home and your family at the station. If you have questions or want to share information, please contact me at ed.nied@tucsonaz.gov.
Ed Nied is the Deputy Chief of Safety and Health for the City of Tucson, Ariz., Fire Department. He has been in the emergency services for 25 years and a firefighter in Tucson nearly 20. Ed has a Masters Degree in Fire Service Administration from Arizona State University and is currently enrolled in the USFA EFO program. At the local level, Ed serves as the chair of the Pima Fire Chief's Safety Section. Regionally, he is co-founder and chair of Southern Arizona Safety Officers. At the State level, Ed is a chair of the Arizona Fire Chiefs Safety and Health Section. Nationally, Ed was elected to the Board of Directors for the IAFC Safety, Health and Survival Section in 2007 where he chairs the health section. Ed is a member of FDSOA and a ProBoard certified HSO/ISO. He is a co-director of the NFFF Southwest Regional Golf Tourney. Ed is also the Fire Services Training Director for Pima College in Tucson.

Request product info from top Fire Apparatus companies
Thank You!