Honeywell brings new SCBA to FRI
The high-tech, durable unit is designed for maneuverability and aids communication on scene
---

SANTA ANA, Calif. — Honeywell introduced its Titan SBCA gear at the Fire-Rescue International trade show. 
The SCBA unit rests on the hips, and can balance itself at the body's center of gravity because of a swivel-and-pivot mechanism. An aerospace-grade aluminum back frame and waist belt can withstand 1,000 pounds of pull force, and shoulder strap material can withstand more than 700 pounds.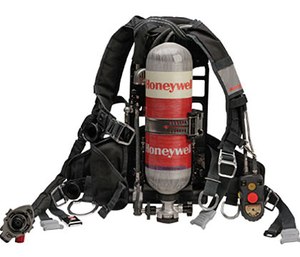 The Titan is compatible with Honeywell's Life Grip, a multifunctional waist belt that can also be used as a drag strap.
The Personal Alert Safety System motion sensors installed on both sides of the unit will reduce battery consumption and minimize false alarms. The PASS sensors are paired with a ThermAlert heat alarm, which will activate when firefighters are in danger of absorbing too much heat. The unit also conducts a periodic wellness check that will alert the user of mechanical faults in the electrical components.
Titan comes with an optional voice amplification system with push-to-talk or hands-free talk modes. It may also be outfitted with an optional wireless radio communication compatible with sophisticated repeater systems.
It is compliant with the 2007 and 2013 editions of NFPA 1981, meets the requirements of the National Institute for Occupational Safety and Health and is approved for use with chemical, biological, radioactive and nuclear materials.
It will be at booth 14097.

Request product info from top Fire SCBA companies
Thank You!