PRESS RELEASE
Havis-Shields Announces New 2002-2008 Chevrolet Trailblazer Vehicle Specific Console
---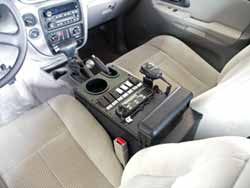 WARMINSTER, PA - Havis-Shields Equipment Corp. introduces the New 2002-2008 Chevrolet Trailblazer Vehicle Specific Console Available Today! This sturdy OEM replacement console provides a professional and custom appearance. Manufactured from laser cut steel, the console can fit precisely with the OEM floor shifter and hand brake.
This console provides strength for mounting up to 13" of emergency equipment in an area where space is very limited. Single extra large cup holder is included. New console mounting requires no drilling! Installation requires the removal of OEM rear armrest, rear seat AC controls and air duct. Recommended options include large padded armrest, accessory pocket, mic clip bracket, K9 transport unit & telescoping computer base for easy computer mounting. Call today today at 1-800-524-9900 and ask about part #C-VS-1300-TBZ!
For more information, visit the website at www.havis.com or contact a sales rep via email at sales@havis.com.