San Francisco's 'most flamboyant fire buffs' ready to retire
By Carolyn Said

Converted firehouse for sale — comes with 1955 Mack fire engine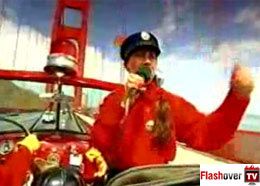 Marilyn Katzman takes the engine over the Golden Gate Bridge.
Full Video
The San Francisco Chronicle (California)
SAN FRANCISCO — Wearing a 19th century firefighter's shirt and hat, Marilyn Katzman climbed into the shotgun seat of an open-air fire truck and burst into song with the gusto of a Busby Berkeley showgirl.
"Welcome aboard our big red shiny Mack fire engine," she warbled as a dozen tourists packed into the seats behind her - also dressed in vintage firefighting apparel plus red scarves to ward off the January chill - clapped and cheered.
The driver, Marilyn Katzman's white-bearded, similarly attired husband, Robert Katzman, chimed in with a gravelly baritone, "We're off to the rescue now."
The Katzmans, "two of San Francisco's most flamboyant fire buffs," according to the San Francisco Fire Museum, have made a business and life out of their devotion to firefighting history.
Their San Francisco Fire Engine Tours & Adventures business, which takes visitors on a 90-minute ride from the Cannery over the Golden Gate Bridge to Sausalito and back, is publicized in guidebooks, magazines and travel shows worldwide, they say.
The couple live in a 112-year-old former firehouse in San Francisco's Ocean View district that they have crammed with firefighting memorabilia. Needless to say, they have a Dalmatian — the aptly named Sadie LaFlame — but she's getting on in years and is taking her retirement in the country.
Now the Katzmans, who give their ages only as "nearing retirement," also want to move on, and are seeking a buyer for their home and business.
For $3.3 million, that buyer will get the 4,000-plus-square-foot firehouse with all its furniture, fixtures and collectibles; the 15-seat 1955 Mack fire engine; and the San Francisco Fire Engine Tours business.
But more than that, the buyer will inherit a lifestyle, one that the energetic Katzmans describe as a dream come true for them.
"Here we are living in a piece of fire history, bringing that history to life," said Robert Katzman, giving a tour of their firehouse, sandwiched between two buildings on Broad Street in the city's southwest corner. Almost every square inch showcases fire artifacts: photographs of long-gone fire crews, extinguishers, helmets, fire hoses, fire-themed toys galore and even pinball machines.
The firehouse, built in 1896, is still laid out much as it was back in the day when it housed Engine Company 33. A 60-foot tower stands ready to hang hoses for drying. There's a hay loft above the big garage known as the "apparatus room" - the company was among the last to give up horse-drawn wagons. The ground floor also has a big kitchen, the "communications room" and a water closet.
Upstairs, the couple turned the huge dormitory into their bedroom with few changes other than a double bed instead of multiple cots. They often take a shortcut to the ground floor by sliding down the 30-foot brass fire pole. The smaller "officer's quarters" are a guest/exercise room, and there are two bathrooms decorated with old street signs. Most of the rooms have 20-foot ceilings.
Serendipity led the Katzmans here and they hope it will kick in again for whoever succeeds them. They were artists seeking a live-work space when San Francisco decommissioned the fire house and put it up for sale. They visited the two-story Victorian, felt it was meant for them and snagged it with a bid of $79,000 at a City Hall auction in 1977.
They moved in with Robert Katzman's 8-year-old son, who got to turn the officer's quarters into his bedroom and was the first down the fire pole when they moved in. He now lives in New York.
Entrepreneurial spirit
At the time, the Katzmans had a business making sculptures out of manzanita wood burls with bromeliad plants. After a few years, that wood became scarce so they turned their entrepreneurial spirit to their new residence.
"We started researching the history of this incredible building we were living in," Marilyn Katzman said. "We started discovering memorabilia and meeting people. We started creating products with a fire theme like toys in little fire buckets and fire chili base."
The couple set up booths at firefighter gatherings called musters to sell their products. At Christmas time they opened the firehouse to the public. They took up other jobs, too. Marilyn Katzman taught tap dance; her husband did marketing consulting.
After awhile, they had a hankering to own their own fire engine.
"Lo and behold, we found this beautiful fire engine," Marilyn Katzman said.
That was their impetus to create the tour company. They've been running it for 10 years.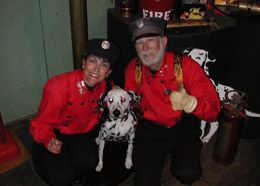 Photo courtesy of San Francisco Fire Engine Tours & Adventures
Marilyn and Robert Katzman with their Dalmatian, Sadie LaFlame, in their firehouse home.
"Captain Robert" drives and maintains the fire engine; she looks after the passengers and provides a lively running commentary peppered with little-known tidbits about San Francisco history and architecture. When the engine returns to the Cannery, the 5-foot-tall, 100-pound dynamo breaks into an exuberant tap dance on the sidewalk. On the tour, she name-drops touring with Donald O'Connor and getting into the Guinness Book of World Records for tap-dancing across the Golden Gate Bridge with her troupe.
The couple, who handle the whole shebang themselves with no employees, do three or sometimes four tours a day in the busy tourist months, far fewer in the rainy season. They said their annual revenue is about $200,000 to $250,000, with a net of about $150,000 to $200,000.
Now they hope to retire, basing themselves in their Waikiki condo, giving inspirational speeches and seeing the world with regular visits back to San Francisco for Robert Katzman to follow his beloved Giants.
"Maybe there's a family or couple or person who really does want to be us," Marilyn Katzman said. "We'll make it easy for them by training them and showing them how."
The Katzmans are so full of zest that it seems churlish to quibble about their price tag, but business and real estate experts said $3.3 million is high.
Mark Corrallo, who owns the Redwood City branch of business broker Sunbelt Business Advisors, said a business that nets $150,000 to $200,000 is worth at most double that net plus the cost of equipment. But because both Katzmans work in the business, he said a prospective sole proprietor would first have to subtract the cost of hiring a second worker - which would bring the net down to $100,000 to $150,000, and the proposed value down to $200,000 to $300,000, plus $30,000 or so for the fire engine.
As for the fire house, Alexander Clark, a Realtor with Zephyr Real Estate and publisher of the blog TheFrontSteps.com, said the owners appear to be ignoring the basic rule of real estate: Location, location, location.
"It's a trophy property, but not in a trophy neighborhood," he said. "I would never advise one of my clients to pay that price for that place. It's on a pretty busy street and the neighborhood is on the borderline of some less-becoming areas."
There are no clear comparables. Ocean View's modest bungalows sell in the $600,000 range, but are much smaller than the firehouse and lack its historic cachet. Other San Francisco firehouses converted to residences have sold in the $2 million to $4 million range, but they have undergone major renovations and are in chichi areas like Noe Valley and Presidio Heights.
Both Clark and Corrallo said that selling the real estate and business together narrows the potential pool of buyers to a minuscule selection.
But the Katzmans devoutly believe that the right buyer is out there, someone with "a burning desire to step into our fire boots, slide down the 30-foot brass pole and jump into an exciting fiery life," as they sing in an online video they made to promote the sale.
"The person who's going to want what we have, doesn't even know he's looking for," Marilyn Katzman said. "He won't say to a Realtor, 'Find me a firehouse and fire engine.' We want a person who won't believe you can actually buy something like this in San Francisco. It's a business you can walk right into; it will continue to thrive."
Copyright 2008 San Francisco Chronicle
All Rights Reserved