911 Sculpture Creates Art, Firefighter Gifts and Statues for Firemen and Women
Custom firefighter sculptures, plaques and memorials available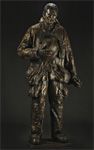 911 Sculpture specializes in bronze firefighter statues from 6 inches small to 20 feet tall. Check out 911 Sculpture's online Gallery page where you will find a selection of limited edition bronze firefighter sculptures.
The sculptor, Paul Olesniewicz received his Bachelor of Fine Art Degree in 1978 from Northern Arizona University in Flagstaff, Arizona. Flagstaff is located 7,000 feet above sea level amidst the world's largest Ponderosa pine forest. It was here that Paul got his first taste of firefighting with the United States Forest Service. Paul has worked for the United States Air Force as a civilian firefighter in both crash/rescue and structural firefighting. After 27 years of service with the City of Tucson Fire Department he has retired from the fire service to continue his sculpture career full time.
Learn more at www.911sculpture.com, or call 1-520-298-4961 for more information.