PRESS RELEASE
Medibrace Introduces Search & Rescue Backpack for Wilderness Rescues
---
end picture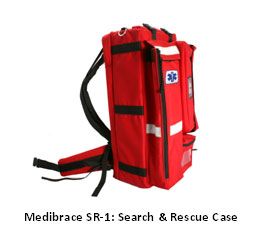 North Bennington, Vermont, – The Medibrace Search & Rescue Pack (SR-1) is now available. The New Search & Rescue Pack is designed for wilderness S&R operations. It can be carried for long periods of time on the Rescuer's back as the Medibrace Load-bearing straps transfer the weight of the load to the Rescuer's hips. There are plenty of pockets for backwoods EMT equipment. There's also an oxygen tank sleeve and a padded laptop compartment. The large padded interior comes with a customizable divider-kit. The durable 1000-denier Cordura® construction is water and tear-resistant and easy to clean.

Availability
The SR-1 is currently available.  For more information regarding the SR-1, contact Medibrace at 866-337-5291 or medibrace@portabrace.com. 

About Medibrace
Reduced response times, extreme heat, cold, moisture, and impact are central factors in the product-design process for all Medibrace products. Medibrace offers a full line of carrying cases, backpacks and accessories including hard/soft combination systems.  All Medibrace products are designed and manufactured in Vermont, USA, by a skilled workforce with over 30 years experience manufacturing custom cases for field use.