PRESS RELEASE
Enter TheFireStore's $12k Giveaway!
---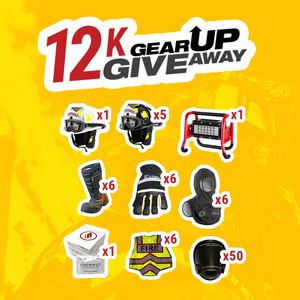 COATESVILLE, PA – TheFireStore has teamed up with the most trusted names in the fire industry to bring one of their most valuable giveaways of the year. Partnering with MSA Cairns, Streamlight, Pro-Tech 8, Fire-Dex, MaskHaze, and Firewipes, TheFireStore will select one department to win this super giveaway that values over $12,000. See what the winning department will get below:
Time to enter runs between November 15th and November 21st. Those interested in entering may follow this link:  https://bit.ly/3mDmbh6
On November 22nd, the winning department will be announced on Facebook and will be contacted via email.
Each participant may enter only once per day. No purchases required. Other terms and conditions may apply. See contest page for more details.
To learn more about TheFireStore and their products, visit www.TheFireStore.com or call (800) 852 – 6088.
About TheFireStore
TheFireStore is recognized as a supplier of firefighter equipment from the most trusted manufacturers in the industry. Their professional sales and support teams are dedicated to making equipment shopping easier by getting firefighters the gear they need when they need it and at prices they can afford. This is how TheFireStore functions so responders can spend less time buying gear and more time doing what they do best — saving lives.
*Winner can select size
** Winner can choose Light or standard and for MSA or Scott

Request more info from Witmer Public Safety Group, Inc.
Thank You!