Beyond a hook or nail: An evolution in firefighter gear storage
NFPA 1851 specifies clean, dry well-ventilated storage for firefighter gear and PPE
---
Not that long ago, it was quite common to walk into a fire station in the U.S. or Canada and see firefighter turnout gear for the on-duty crew hanging from the apparatus or piled up on the apparatus bay floor.
Off-duty personnel's gear could be found hanging from nails, hooks or wooden pegs mounted along the interior walls of the apparatus bay – the same apparatus bay where fire trucks came and went discharging diesel engine exhaust.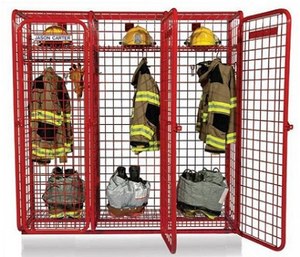 What's changed in firefighter gear storage?
We've gotten much smarter regarding the storage of our PPE thanks to the developing body of knowledge regarding firefighters and their exposure to toxic materials and carcinogens during structural firefighting activities – contamination that can be brought back to the fire station and spread throughout the station if the proper actions are not taken. We call that secondary contamination.
Minimizing that secondary contamination involves several actions by firefighters:
First; the gross decontamination of their firefighting PPE upon leaving the hazard area at the fire scene.
Second; giving that gear a proper cleaning according to the manufacturer's recommendations, either in a washer/extractor unit or through manual washing back at the station.
Finally; allowing the gear to completely dry before returning it to service.
Drying and storing PPE
Hanging PPE from hooks, nails and pegs no longer works for drying or storing firefighter PPE. Drying PPE and the need to store PPE better have taken on increasing significance in the effort to better protect firefighters from secondary contamination and to encourage them to take better care of their PPE, one of the larger financial outlays that most fire departments make.
Air drying is the most appropriate method for drying your PPE elements for a few reasons:
There's no potential for mechanical damage.
There's little to no shrinkage for those elements.
Most fire stations that have PPE dryers only have one (not a very good drying option when there are a half dozen sets of turnout gear that need to be washed and dried following a structure fire).
Forced air ventilation is the most efficient method of air drying and can be accomplished by simply using fans to circulate air in the room where PPE components are drying. But the real key to more efficient and effective PPE air drying is arranging the elements so all surfaces (inside and out) are receiving good air flow.
Chapter 9 of NFPA 1851: Standard on Selection, Care, and Maintenance of Protective Ensembles for Structural Fire Fighting and Proximity Fire Fighting specifies how PPE elements should be stored. Here are some of the highlights for PPE elements:
Should not be stored in direct sunlight [to avoid UV-ray damage].
Should be clean and dry before storage.
Should be stored to avoid mechanical damage from other equipment.
Should be stored in clean, dry and well-ventilated areas.
Solving the drying and storage conundrum
That's where manufacturers have come up with PPE storage locker systems, characterized by large, open-grid construction that maximizes airflow while maintaining structural integrity. When combined with heavy-duty coat, pants and glove hangers, the abundant airflow can reach all surfaces of the PPE components for faster and more complete drying – which is great for drying freshly cleaned PPE or just getting your gear dried quickly after working a motor vehicle crash in a summer downpour.
This new generation of storage locker systems can either be installed along interior walls of a fire station or mounted as freestanding lockers in between fire apparatus in the apparatus bay, or kept mobile using heavy-duty casters.
Storage lockers can provide more than just effective drying and storage capabilities for firefighters and officers. Accessories can be added – both before and after the sale – to provide additional storage options for each locker such as:
Customizable shelving and hook options.
Lockable storage boxes.
Helmet and glove holders.
Lockable doors.
Locker covers to protect gear from UV-ray exposure.
We've certainly come a long way from a hook or a nail on a station wall, haven't we?