PRESS RELEASE
Groves Inc. Introduces the Personal Protective Equipment Carrier
---
use if there is a picture
end picture
The Ready Rack PPE Carrier keeps your turnout gear and all your primary equipment organized in a convenient, compact, and open air assembly. It was designed by a Wisconsin Firefighter to simplify gear storage and transport while improving deployment times. The Ready Rack PPE Carrier incorporates Heavy-Duty Berry Compliant webbing, carabiners, and buckles, along with your boot stirrups and traditional gear hanging devices to create a self-contained bundle that maximizes breathability and mobility.
Features:
use if there is a picture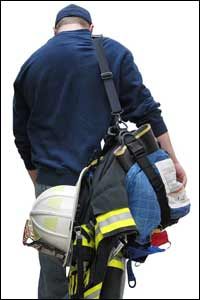 end picture
• Berry Compliant.
• Heavy weight 2" top Attachment Strap with sturdy rubber handle.
• Super-heavy weight 2 inch Boot Strap with a Sliplok & Strap Keeper for easy, customized adjustment that tightly cinches gear for transport.
• Adjustable Shoulder Strap with movable rubber comfort pad.
• Interlocking side release buckles for quick attachment & release.
• Configuration designed to ensure a balanced load, with no stress on boot loops.
• Slots for up to six carabiners to attach multiple pieces of gear to belt.
Benefits:
• It's compact: Enables compact assembly of all your bulky PPE gear.
• It's fast: Assembles in less than 60 seconds and provides faster deployment of your gear than conventional storage options.
• It's hygienic: Open-air assembly allows gear to dry quickly, preventing odor & bacteria build-up.
• It's convenient: Connects all primary equipment pieces (helmet, face mask, gloves, etc.) to the Attachment Strap to be hung in the cab as one unit, keeping gear secure & off the floor.
• It's transportable: The Boot Strap can then be folded & placed in pant bellow pocket so your Bunker Belt is always with you.
• It's multi-use: Straps can be employed independently for other utility uses.  
About Ready Rack
Ready Rack open air storage systems from Groves Incorporated are the original turnout gear and Personal Protective Equipment organizational solutions designed to maximize storage space in fire stations. The Ready Rack family includes innovative gear storage systems including: hose drying racks, hose winders, backboard racks, SCBA storage systems and surplus gear racks.