EAGAN, Minn. — Fire Departments are constantly faced with the important decision of how to properly store and protect their turnout gear. For one Minnesota Fire Department, they were ready to find something different to match their department's transformation.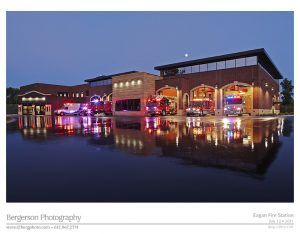 The Eagan Fire Department has historically been an all-volunteer department with a total of six stations, and an authorized strength of 150 paid-on-call firefighters. However, like many fire departments, Eagan's has struggled to maintain its volunteer force. As a solution, Eagan determined that it was time to reduce its number of stations from six to three, by building two entirely new ones and remodeling/expanding an existing facility. With the community's population rapidly growing as well as its commercial/industrial business and retail areas, the fire department transformed into a combination model with a mix of career and paid-on-call staff.
After years of using homemade wooden units with metal hooks from the hardware store, Eagan's Fire Chief, Mike Scott, knew it was time to find a product that would properly store their gear. In turn, the research process uncovered many manufacturers and types of storage solutions on the market. Before purchasing, Chief Scott thought it was necessary to conduct adequate research. In his eyes, not all lockers are created equal. The alternative options Chief Scott considered were not equipped to handle the everyday use of firefighters. With turnout gear being a critical component to a firefighter's job and a big investment for any fire department, it deserves to be properly stored and protected.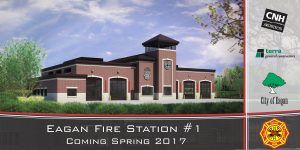 While touring fire stations prior to the start of the design process, the Eagan team discovered GearGrid. What immediately caught their eye was GearGrid's sleek design and superb build quality. The fact that all GearGrid products are manufactured in the USA and are specifically made to store personal protective equipment (PPE) sealed the deal.
Now, in 2017, as a combination department and with 100 firefighters on staff, Eagan's second new station is being built with the assistance of architect Quinn Hutson, AIA, LEED AP of CNH Architects. There was no question that GearGrid's storage lockers would be used to store the firefighters' turnout gear. However, what the department began to discover was GearGrid's hidden treasure: the abundance of additional storage solutions with the ability to customize products more than any other manufacturer in the industry.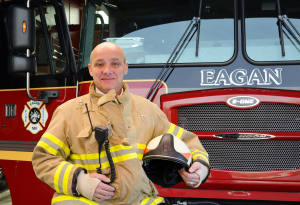 Eagan began working with GearGrid to determine if some of their toughest storage challenges could be solved. Chief Scott commented, "GearGrid really listened to us regarding our storage needs, and they were quick to create innovative solutions to solve them."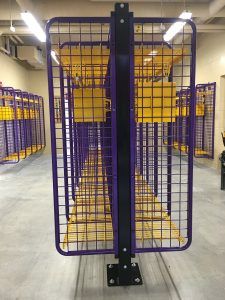 One of those needs was the unique color choice for their turnout lockers in the new station. In honor of the Minnesota Vikings professional football team building their new headquarters and practice facility in Eagan, the department elected to see if GearGrid would be able to make their lockers purple and gold.
GearGrid responded by having their in-house powder coating team transform their lockers into a purple and gold Vikings tribute. They were even able to powder coat their large apparatus bay fans, providing yet another unique and innovative solution to the facility.
In the design of the new facility, it was important for the department to have a designated room off the apparatus floor for storing PPE gear for their entire combination staff. Unfortunately, in the designated area, there was only room for half of the necessary lockers. GearGrid's solution was their Free Standing Tube Wall Structure. The island configuration allows lockers to be mounted on both sides, providing more locker openings where wall space does not allow. With the creativity of GearGrid, Eagan was able to satisfy their needs, and have a locker opening for each firefighter.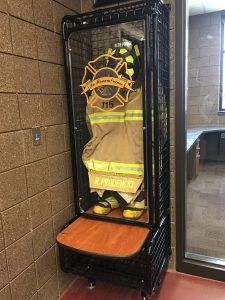 In addition, Eagan approached GearGrid with a request they had not received before: dorm room storage. It was Eagan's hope to maintain a consistent appearance throughout the station for a clean and professional design. GearGrid's Athletic line of products offered the perfect solution with the Personnel Locker. With secure storage and available seating, it was exactly the solution the Fire Department was looking for. The lockers were even powder coated purple to match the rest of the facility. According to Chief Scott, "When you buy products from GearGrid, you know you will have a consistent look throughout your station."
Based on a similar request previously received, GearGrid was able to design a properly fitted metal fabricated solution that accommodated the department's charging bases. Luckily, GearGrid had the perfect solution to help Eagan. The design of the custom fixture easily affixed to GearGrid's square grid pattern, allowing for ultimate adjustability and flexibility of placement.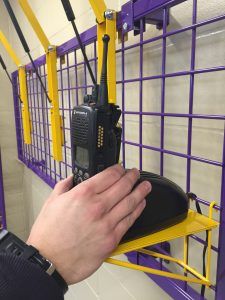 Perhaps Eagan's most meaningful request was for a memorial locker dedicated to the service of Lt. Roy Prudencio, who lost his life to cancer in 2010. The locker was created as a way to display the dedication and sacrifice Prudencio provided to those in the community. It is a true testament to his service, and he will forever hold a special place in the Eagan community.
Eagan continues returning to GearGrid due to the high quality of their products and outstanding customer support. Chief Scott admires GearGrid's ability to listen to the fire industry's changing needs and adapt their products accordingly.
GearGrid was exactly the answer the Eagan Fire Department was looking for. Not only were they able to assist with solving the PPE storage challenges, but GearGrid also addressed several other challenges they did not think were possible. Chief Scott believes GearGrid is always interested in learning more about fire departments' storage needs in order to develop the company's next great product. Today, Eagan proudly displays their turnout gear in durable and breathable lockers throughout all three of their stations.
As the department looks forward to the future, they are excited to continue working with GearGrid in pursuit of their next storage achievement.
About GearGrid
GearGrid is the strongest and most versatile line of storage equipment on the market. All GearGrid products are manufactured in Forest Lake, Minnesota at its headquarters and production facility. Today you will find GearGrid's full line of equipment storage and transport solutions used in stations nationwide and beyond. For more information visit www.GearGrid.com or call 1-888-634-6694.