PRESS RELEASE
PBI Gold High Performance Firefighting Gloves Now Available
---
end picture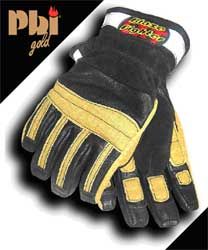 From turnout gear and hoods to USAR and wildland gear, PBI fabrics have set the bar, combining unmatched heat and flame protection with unsurpassed strength and durability. Now that same personal protective performance you've come to trust is available in firefighting gloves.
PBI Gold® along with high strength aramid fibers are blended into an exclusive new glove fabric that offers superior flame protection, enhanced grip, and durable water and oil resistance. The unique 3-D design of the fabric provides the dexterity, cut resistance and overall protection that firefighters require for any situation. The Blaze Fighter is UL certified to latest editions of NFPA 1951 and 1971, USAR and Structural PPE standards respectively, and available through The Glove Corporation.
The bars been raised, specify gloves made with PBI Gold fabric and get the upper hand.