Spotlight: Keeping responders safe from chemical threats, narcotics
The new generation in handheld chemical detection
---
Company Name: Rigaku Raman
Headquarters: Wilmington, MA
Signature Product: Progeny™ ResQ™
Website:  www.rigakuraman.com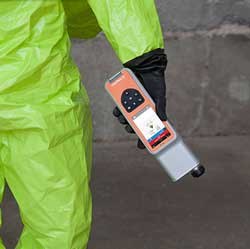 Intro: Rigaku Raman Technologies, Inc. is a leading pioneer in handheld and portable Raman analyzers purpose-built to support the protection of public health and safety. Their products provide advanced chemical detection with easy-to-interpret actionable results for rapid incident response.
What was the inspiration behind starting your company? 
Founded in 1951, Rigaku Corporation is a recognized leader in developing innovative solutions and is credited with hundreds of major innovations. Rigaku Raman Technologies was launched in 2011 to focus on furthering portable and handheld Raman technology in response to a growing demand for higher performance, more capable instruments that help ensure public and emergency response team safety. 
Why do you believe your products are essential to the firefighting community?
Progeny ResQ is the newest cutting-edge field portable handheld Raman technology available. This rugged device was designed to meet the needs of first responders and others who face the ever expanding list of chemical and narcotic threats.  
Progeny ResQ rapidly detects and identifies the largest number of unknown substances – even through packaging such as plastic, clear glass and amber bottles. With a library of over 12,000 substances, and an additional comprehensive library of TICS/TIMS, CWA's, Progeny ResQ provides teams with the highest level of threat detection and identification available today.
What has been the biggest challenge your company has faced?
It has been a small challenge to educate the industry on the capabilities of handheld 1064nm Raman, especially when the industry standard has been 785nm systems.  But the superior material coverage became quickly evident for identifying toxic and hazardous materials, where sample induced fluorescence interference can be frequently problematic for accurate and timely identification of substances.  Now, more first responders are learning about the benefits of the device and are adopting the handheld 1064nm Raman.
What makes your company unique?
We design our products based upon what the industry tells us it needs, not what we think they need. Progeny ResQ's design and capabilities are based upon a wish list provided by actual people who use and rely on equipment that allows them to quickly take action against chemical hazards and threats. We know we made the right choice and have been told by users that Progeny ResQ finally meets the standard of what has long been promised from a handheld Raman analyzer.
What is the most rewarding part of serving the first responder community?
Everyone at Rigaku Raman Technologies takes pride in knowing that what we do helps keep the public and first responders safe.