PRESS RELEASE
National Guard Purchases RAE Systems' Wireless Chemical/Radiation Sensor System for Nationwide Civil Support Team Deployment
---
New Stainless Steel "Hardened" AreaRAE Wireless Systems Selected
SAN JOSE, Calif. – RAE Systems Inc. (AMEX: RAE), a leading global provider of rapidly deployable sensor networks that enable customers to identify safety and security threats in real time, today announced that the United States National Guard has purchased and received delivery of custom configured RAE Systems' AreaRAE, wireless, Rapid Deployment Kits (RDKs) to equip all 55 Civil Support Teams (CSTs) with portable toxic gas and radiation detection equipment. Key to the selection process was the ability for the CST deployed systems to interoperate, provide mutual aid, as well as interface to existing AreaRAE systems already in use by civilian first responders. The AreaRAE RDK is designed to be quickly configured and deployed in any response scenario and can integrate a wide range of detection equipment including RAE Systems' portable monitors and third-party devices, all operating wirelessly and instantly providing data for incident commanders through a single real-time interface.

"We are proud to continue contributing to the safety and security of all Americans and we see this nationwide deployment as an affirmation of our leadership in the creation and on-going development of wireless sensor networks to provide life-critical and time-critical information," said Robert Chen, chief executive officer for RAE Systems. "The selection of our new, stainless steel hardened, AreaRAE Rapid Deployment Kits by the National Guard CSTs adds to the more than 600 AreaRAE networks and over 2,500 monitors that are already deployed with our civilian first responder and industrial customers."
There are currently 55 CST units deployed across the United States and U.S. territories on standby seven days a week, 24 hours a day, that are equipped to respond within 90 minutes of a suspected Weapons of Mass Destruction (WMD) incident. Their mission is to assess the likelihood of a suspected WMD attack, advise civilian responders on appropriate actions through on-site testing and expert consultation, and facilitate the arrival of additional state and federal resources. CSTs have provided support to civil authorities in every major event since 1999 including Hurricane Katrina, Super Bowls, the Columbia Shuttle recovery and Olympic events.
The AreaRAE RDK model selected by the National Guard consists of four, stainless steel, wireless, AreaRAE monitors. All four monitors include GPS receivers, sensors for oxygen level, lower explosive limit and RAE Systems' patented photoionization detector (PID) for the detection of volatile organic compounds (VOCs), pepper spray and most chemical warfare agents. Two of the AreaRAE monitors in the RDK are configured with two specific toxic gas sensors that can be field selected from an assorted list of toxic sensors, while the other two AreaRAE monitors in the CST Detector Kit include RAE Systems quick-responding cesium-iodide gamma radiation sensor that warns of the presence of any dangerous gamma-emitting radioactive material.
The CST version of each AreaRAE Host Control Unit also includes the HazRAE Chemical/Biological/Radiological and WMD Decision Support software application. HazRAE's unique patent-pending capabilities provide the CST Command, Operations, Medical and Survey Sections with real-time answers ranging from traditional hazardous materials incident response to terrorist-related incidents.
For more information on the RAE Systems family of wireless toxic gas monitors, GammaRAE radiation detectors and HazRAE decision support tools please visit our website at www.raesystems.com .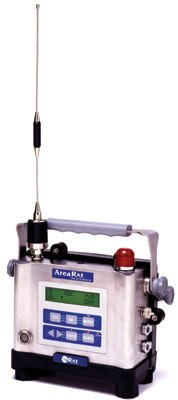 About RAE Systems
RAE Systems is a leading global provider of rapidly deployable sensor networks that enable customers to identify safety and security threats in real time. Products include multi-sensor chemical detection, radiation and digital video monitoring networks for homeland security and industrial applications. RAE Systems' products enable the military and first responders such as firefighters, law enforcement and other emergency management personnel to detect, provide early warning and record events that involve weapons of mass destruction and other hazardous materials. Industrial applications include the detection of toxic industrial chemicals, volatile organic compounds and petrochemicals. RAE Systems' products are used by many U.S. government agencies, including the Department of Homeland Security, the Department of Justice, and the Department of State, as well as all branches of the U.S. military, and by numerous city and state agencies. Our end users also include many of the world's leading corporations in the airline, automotive, computer and oil industries. Our products are used in civilian and government atmospheric monitoring programs in over 50 countries. For more information about RAE Systems, please visit www.RAESystems.com.