PRESS RELEASE
SAFER STAR Case Study: ACTA — ACTing on A Potential Emergency
---
end picture
"This tool is helping BNSF, along with its customer and community emergency response partners, quickly and correctly develop plans to address potential hazardous materials emergencies. BNSF's rate of derailment-related hazardous materials incidents per 100,000 shipments has dropped more than 45 percent since 1996, and we expect SAFER STAR® to help us further improve the management of our response in the future."
            — Mark Stehly, Asst. Vice President Technical Research, Development & Environment
BNSF Railway, one of the companies represented in the Alameda Corridor Operating Committee
Summary
The Alameda Corridor is a 20-mile stretch in southern Los Angeles County, California, running from the ports of Long Beach and Los Angeles north to downtown Los Angeles, primarily along and adjacent to Alameda Street. The project extends through or borders nine cities as well as unincorporated areas of Los Angeles County.  It includes 11 miles of rail located in a trench 33 feet below grade.

With all Class One railroads in North America as owners of SAFER STAR® systems, as well as the Ports of Los Angeles and Long Beach, it was a natural choice for the governing Alameda Corridor Transportation Authority (ACTA) to implement a SAFER STAR® system with SAFER Real-Time® software in its chemical emergency response management program.
Background
In the mid-1980s, a plan was formed to improve cargo rail service between the transcontinental rail yards east of Los Angeles and the Ports of Long Beach and Los Angeles.  Astoundingly, over 30 percent of the imports arriving into the United States arrive through these ports.  The distance between the two points is 20 miles, and runs through fully developed and mature urban communities.  The objective of the corridor is to increase the speed of the cargo trains by directing surface traffic over or under the track.  The benefits include additional volume of rail traffic, reduced delays to street traffic, and increased quality of life along the rail route.  The Alameda Corridor Transportation Authority (ACTA) was formed to manage this immense project.
A major part of this was accomplished by creating a 10 mile long trench.  The trench is 33 feet deep by 50 feet wide and runs directly down the middle of Alameda Street.  It accommodates two rails with room for a third track.  It is hard to appreciate the scope of this project as well as the project management and policies that accompany it.  At the peak of construction, they were building the trench at 80 feet a day.  It required the removal of 4 million cubic yards of dirt, the relocation of several Native American burial sites, the construction of 29 new street crossings bridges, and the relocation of over 3000 underground utility lines...an amazing engineering feat.

 Following the April 2002 opening, operations have been overseen by a four-member Alameda Corridor Operating Committee, staffed by ACTA personnel, which includes one representative each from the Port of Long Beach, Port of Los Angeles, Burlington Northern Santa Fe Railway, and Union Pacific Railroad.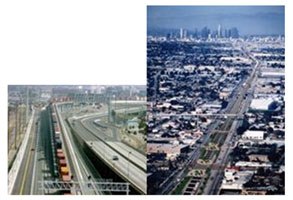 Managing Emergencies is a Stretch
ACTA, along with two of its Alameda Corridor Operating Committee members—BNSF and Union Pacific Railway companies—took a proactive stance on managing emergencies anywhere along the Alameda Corridor.

This wasn't the first time that SAFER Systems and BNSF worked together on a major project.  In fact, SAFER STAR® was developed in partnership with BNSF.  SAFER STAR® software is invaluable to the transportation sector, and was a logical choice for the Alameda Corridor project.

As a small part of this project, SAFER Systems developed dispersion modeling specifically designed for the mid-corridor trench.  SAFER engineers provided information on surface level impacts, taking into account the release point in the trench.  This is a whole new model for trenchlines, which will undoubtedly be used for many other applications in the future.

The $2.4 billion investment for the Alameda Corridor project ranks it among the largest public infrastructure projects under construction in the United States. The corridor became operational in 2002 but continues with planning and projects in a variety of areas within its scope.
Drilling Above and Below
Municipal HazMat drills are a great way to bring various emergency responders together to practice how they would handle a real hazardous materials event.  SAFER Systems participates in many of these drills, including those at ACTA simulations.

One such simulation took place on Sunday morning, March 11, 2007.  The Los Angeles City Fire Department got together with representatives from BNSF and UP Railways, ACTA, the LAPD, and SAFER's Eric Fishman and Ernie Gilbert.  The drill simulated a potential terrorist event leading to an opened or damaged valve on a chlorine tank car.

Using SAFER STAR®, participants created a scenario by which the fire and police departments could practice their specific responses to the projected impact.  The LAFD faces a special challenge working in the trench, and this is their once-a-year opportunity to exercise those skills.  The ACTA STAR® produces a unique result using a special trench model and four integrated weather stations. 

Ernie Gilbert, SAFER President, noted "SAFER STAR® was praised broadly as an integral part of the drill."  Important players in the SAFER STAR® simulation included Ed Chapman, BNSF; Art Goodwin, ACTA; John Biggs, Battalion Commander LAFD; and Ted Jones, Detective II LAPD.