PRESS RELEASE
First Due Releases Community Connect to Bridge the Data Gap Between First Responders and Residents
---
Community Connect is already enabling residents in North Carolina, Florida, and Washington State to help their first responders better serve them in an emergency – by providing valuable property and occupancy details only a resident could know to be directly incorporated into pre-incident planning, emergency management and incident response processes
NEW YORK - First Due, known to fire and emergency response agencies across the US for developing premier next-generation pre-incident planning and mobile response software for first responders, announced today the full release of Community Connect as an integral component of the First Due platform.
Community Connect will build off First Due's vision of highly intuitive and informative technology for responders. Looking forward, residents in First Due supported districts will gain access to a robust and straightforward online portal to share critical information directly with their local public safety agencies. First Responders will then have access to these essential pieces of occupancy and property when arriving at the scene of an emergency on any device – seamlessly embedded in First Due and integrated with their dispatch process. Moreover, Emergency Managers will be able to make better decisions based on Community Connect data during major incidents.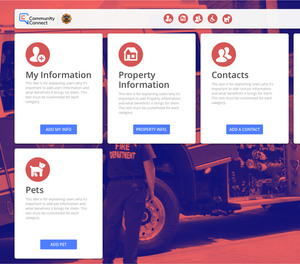 Without Community Connect, First Responders operate off an incomplete picture of a residence during a response scenario. First Due's base platform already uses technology to automatically aggregate data from public sources, providing agencies critical data on every structure. With the addition of Community Connect, agencies will now bring another level of crucial information including emergency contacts and functional need concerns directly from residents in a way previously unachievable. Additionally, pet information and property details such as automated sprinkler systems, emergency meeting places, access & utility points, and customizable maps are available to residents to configure in minutes over the web.
Central to First Due's mission with Community Connect is to provide first responders better tools to serve their communities.
"Community Connect allows for us to respond to an emergency more effectively. Knowing difficulties like how to navigate a property or residence can save time and help our people know exactly where they are most needed during an emergency," says Daniel Flinn, Asheville Fire Department Battalion Chief.
"When arriving on scene, the first minutes are spent in conversation about the particulars of the person's needs rather than discussing the reason for the call for assistance. With Community Connect, we have already accomplished that crucial and time-consuming step. We can now walk in the front door and start to immediately learn exactly what is wrong at that moment. This shaves off crucial minutes when every minute counts. Community Connect is one of the best ways to put these critical details in the hands of first responders from the moment we get a call, giving us a better chance for a positive outcome."
Residents also account for more peace of mind and increased confidence in their first responders with Community Connect. Jen Nylander of Bremerton, Washington explains she can rest easier than ever before in entrusting the safety of her severely allergic six-year-old son to Central Kitsap Fire Rescue thanks to Community Connect:
"Back when we were living in California without Community Connect, I spent so much time and effort to make sure that our local firefighters knew the seriousness of Max's allergies. And even then, there was no guarantee that they knew what they were walking in to and what to do if they received a call to our home.
The comfort in knowing first responders already know how to proceed and answer some of their initial questions before they arrive at our door makes a world of difference. I am overwhelmed with the prospect of Community Connect going online here, as it is life-changing for patients and caregivers. This will bring many people — myself included — peace of mind; time will be saved for patients, for responders, for everyone."
Community Connect is poised for widespread adoption during the remainder of 2019 including the release of Community Connect for High Hazard Public Structures such as Schools, Commercial Offices, Age Care Facilities and Hospitals.
If a first responder for more information on how your Fire Agency can adopt Community Connect, please visit https://firstduesizeup.com/communityconnect.
As a resident, to learn more and check your household's Community Connect status, please visit https://firstduesizeup.com/cc/communityconnectforresidents/.
About First Due:
First Due has reimagined pre-Incident planning and Community Engagement for departments nationwide through its cloud-based first-responder safety and situational awareness platform. First Due automates the aggregation of disparate municipal data (assessor records, building department, GIS, Social Media, and RMS), then provides powerfully intuitive planning and community engagement tools. Finally, first Due's responder-focused platform is designed to link directly to CAD, ensuring actionable pre-plans for every structure on every call, on every device – consumable in seconds.
Departments with First Due redefine situational awareness for better decisions during incidents - leading to more positive outcomes.
To request more information regarding First Due's products or to get in touch with First Due's executive team please visit https://firstduesizeup.com/get-in-touch/.