PRESS RELEASE
Bristol Township Police Department chooses Xplore rugged tablets to replace Panasonic Toughbooks in patrol cars, field
---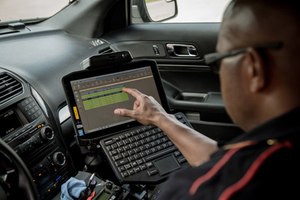 AUSTIN, Texas — Xplore Technologies Corp. (NASDAQ: XPLR) today announced that the Bristol Township Police Department in Pennsylvania has chosen to standardize on Xplore R12 rugged tablet PCs after nearly 15 years of cycling through fast failing notebooks and other mobile devices that proved unfit for public safety's extreme daily operating environments. Just one-third of the way through its full fleet upgrade to the R12, local law enforcement officers already boast about the rugged tablet's uninterrupted 4G LTE, Wi-Fi and satellite GPS connectivity as they transition from the station to the patrol car and into the field for incident response and investigation. They also report increased situational awareness due to the continuity of the real-time data transmissions to and from dispatch, other responding units, and local and federal databases such as CJIS.
"Officers with the Xplore R12 rugged tablet in hand have visibility into mission-critical data needed to make informed decisions and take the best course of action in that moment," commented Mark Holleran, president and COO, Xplore. "Even better, the tablets' mobility enables public safety agencies such as the Bristol Township Police Department to maintain a clear law enforcement presence within their communities. For example, the R12 has a large, bright sunlight-readable screen, so officers can remain in the field – outside the vehicle – and very visible to those around them when they're working on reports or waiting for guidance from dispatch. They can't do that with a large and unwieldy notebook that, for all intents and purposes, is permanently mounted in the vehicle."
The Xplore R12 tablet, however, can – and often does – serve as a notebook or desktop replacement in the vehicle or office. Bristol Township officers frequently choose to bring the fully capable mobile computers back into the office, and even home with them at night, when they want to complete more data-intensive tasks with a wirelessly-attached keyboard instead of the pen or touch inputs. The Intel®-powered Windows® tablet also comes standard with a built-in camera, which enables single device evidence documentation and review, and a optional hot-swappable battery that eliminates unnecessary downtime during long shifts. Available security features such as TPM, fingerprint scanners, and multi-authentication tools ensure all tablet actions meet government-mandated standards. And though Bristol Township equipped its fleet with Xplore's Secure Mobile Docks, they did not hard-install the Xplore R12 tablets into their patrol cars. It would have defeated the purpose of investing in the truly mobile tablet solution.
Detective Robert Lebo noted: "We use a virtual private network connection — a VPN — and we use remote desktop protocol which gives us full functionality whether we're sitting at a PC in the station or using the tablet out in the car. Our crimes codes, local ordinances, scheduling program, map books and emails are available in the car and in the field. Anything you can do from a PC in the station you can do with the tablet while on foot or on the move."
Det. Lebo recently spoke in detail with the Center for Digital Government about Bristol Township's past mobility experiences and current rugged tablet solution, which is being implemented by Xplore Platinum Partner Allegiance Technology. Read more about the police department's experience with Xplore and how they plan to take advantage of the R12's built-in features in the near future, including biometrics and additional data tools.
Download the full case study: Bristol Township Case Study (PDF)
For more information on Xplore's rugged tablet solutions for public safety, please visitwww.xploretech.com/publicsafety.
About Allegiance Technology
Since 2003, Allegiance Technology has helped customers choose the best rugged tablet for their needs. With expertise in Public Safety and Field Service, we will help you make the right choice for your organization. Let us help you pick the right tablet that works in your environment, with your software so you can do your job better. Visit www.alltp.com to learn more about how The Rugged Tablet PC Experts can help you.
About Xplore Technologies 
Xplore is The Rugged Tablet Authority™, exclusively manufacturing powerful, long-lasting, and customer-defined rugged tablet PCs since 1996. Today, Xplore offers the broadest portfolio of genuinely rugged tablets – and the most complete lineup of rugged tablet accessories – on Earth. Its mobility solutions are purpose-built for the energy, utilities, telecommunications, military and defense, manufacturing, distribution, public safety, healthcare, government, and field service sectors. The company's award-winning military-grade computers are also among the most powerful and longest lasting in their class, built to withstand nearly any hazardous condition or environmental extreme for years without fail. Visit www.xploretech.com for more information on how Xplore and its global channel partners engineer complete mobility solutions to meet specialized workflow demands. Follow us on Twitter, Facebook, LinkedIn, and YouTube.
Request more info from Zebra Technologies
Thank You!