Gamber-Johnson releases update to Zebra Docking Station
STEVENS POINT, Wis. — Gamber-Johnson, a manufacturer of rugged and reliable electronic mounting systems for fleet vehicles, today introduced an update to its best-selling docking station for the Zebra ET50/55 8" and 10" rugged frame tablets. The updated docking station has all the unique features of the original for unrivaled warehouse and fleet performance, but now features an additional port for RS232 serial with power on the 9th pin.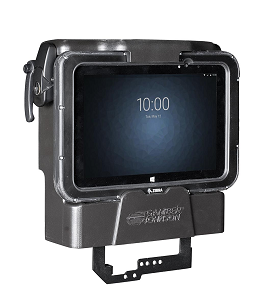 "This new version is fully-loaded with all the ports a material handling environment will need," says Tom O'Brien, Gamber-Johnson's material handling sales manager. "It's the premium docking station for fleets that want to use their Zebra tablet to its fullest capabilities."
With the new port, legacy peripherals with RS232 can be connected directly to the docking station. For example, hand-held or mobile computers, scales, scanner guns, or printers. This comes in addition to Ethernet, USB 3.0, HDMI, and power input ports that are already on the docking station.
The Zebra docking station features spring-loaded hinges and dual locking latches to ensure the tablet is kept in place. Guide pins on the front make it easy to put the tablet into the docking station correctly and ensures there is full connectivity. The tablet's scanner, hand strap, battery bay, and stylus all work with the docking station.
It's simple to attach the dock to any lift vehicle using Gamber-Johnson's complete line of mounting equipment. Horizontally on the overhead guard leg or vertically from the overhead guard, there's a way to safely mount your Zebra tablet using Gamber-Johnson systems.
Availability
The Zebra docking station will be available through Gamber-Johnson resellers in early 2017. Find a reseller near you at gamberjohnson.com.
About Gamber-Johnson
Gamber-Johnson is the award-winning ISO 9000 certified manufacturer of easy to install rugged vehicle mounting solutions for laptops, tablets, and other devices. Their product line includes the TabCruzer tablet docks and cradles, vehicle-specific consoles for a truly mobile office, universal docking stations, the Mongoose motion attachment system, and a complete line of mounting equipment for material handling applications. Gamber-Johnson products can be found in material handling vehicles, police cars, fire trucks, ambulances, utility trucks, military vehicles, and personal vehicles across the globe.