Binder Lift's Trade-In program allows departments to put 100% of the original purchase price of their products towards a Binder Lift product, and donates used gear to Medical Teams International.
CODY, Wy. — Binder Lift is pleased to announce the launch of their new Trade-In Program.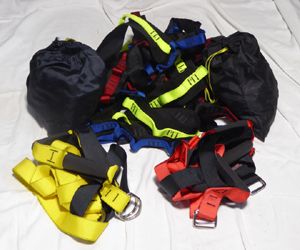 "This is something that we have been working on for a long time," states Rick Binder, Director of Sales. "Our customers were just throwing their old lift assist products away after upgrading to the Binder Lift. Not only is this an unfortunate waste of money for the department, but emergency services in developing countries that lack resources can still make use of these products."
With Binder Lift's new Trade-In Program, departments will be credited up to 100% of the original purchase price of the products they wish to trade-in. Binder Lift will donate the traded-in product to Medical Teams International for distribution to departments in need of basic supplies. Binder Lift will credit up to 100% of the original purchase price towards a trade-in for a Binder Lift for any of the following products:
Doty Belt
Vetter Belt
Smart Lift
Other generic gate belts
If a department has a lifting product that is not listed above a credit still may be available. For a detailed list of available products and trade-in value contact Binder Lift directly at 855-239-5438 or email info@binderlift.com.
Dan Binder, Owner/CEO of Binder Lift LLC, issued the following statement regarding the announcement: "We are committed to making a major impact on the lifting related injury rate that currently plagues our prehospital workers. Helping departments get rid of old products that they aren't satisfied with is just one of the many ways we try and make the Binder Lift more affordable and easier to procure."
About Binder Lift
The first Binder Lift was created in 2012 by Dan Binder to prevent his wife's back from getting injured while performing her duties as an EMT-I. Today, we still have the same core focus of providing a safer way to lift for all fire and EMS personnel. Our products are manufactured right here in the USA by R&B manufacturing in Oakwood, Ohio. We are a family operated business that keeps our family values in the business environment. Give us a call, we'd love to chat.