3 ways firefighters can combat heat stress with the right PPE
When you're feeling the heat, your turnout gear shouldn't add fuel to the fire
---
Sponsored by Fire-Dex
By Yoona Ha, FireRescue1 BrandFocus Staff
Fires account for only 4 percent of fire department responses. But the number of heat stress-related injuries and deaths are still on the rise despite years of education on how to recognize the signs of heat stress and take prompt corrective action.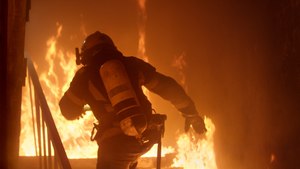 Firefighting is tough work that requires wearing personal protective equipment that's often heavy and restrictive. When you're battling blazes that top out at 2,000 degrees, your PPE can often feel like a burden.
It doesn't take much for even the most experienced firefighters to become exhausted by the combination of strenuous muscular activity and the hot and hostile environment that could lead up to dehydration and heat stress.
Heat stress can cause many problems for firefighters, including muscular fatigue, cardiovascular strain, reduced cognitive function and more serious injuries that could even become fatal. Recently, researchers found that heat stress is a common factor for heart attacks, the leading cause of death for on-duty firefighters, as well as slip, trip and fall accidents, which account for the majority of injuries that occur on the fireground.
Thermal Protection vs. Breathability
Firefighters face a dilemma when they're choosing turnout gear. On one hand, you want it to provide the thermal protection you need, in case of worst-case scenarios like flashovers. On the other hand, you want your turnout gear to be light and breathable.
"When it comes to PPE we've really come a long way with technology, but the industry has struggled with this tradeoff between thermal protection and breathability," said Todd Herring, director of marketing and product development at Fire-Dex.
That's the challenge Fire-Dex looks to overcome with its TECGEN71 outer shell that is flexible and light without sacrificing its thermal protective performance.
Here are three ways the TECGEN71 outer shell can help you fight heat stress:
1. LIMIT YOUR HEAT BURDEN
One of the biggest problems you'll encounter while wearing PPE is that excess heat and moisture from your sweat gets trapped underneath your gear, which makes your body temperature rise even further.
TECGEN71 addresses this concern with its three-layer composites that include an outer shell made with TECGEN fiber. It's this outer shell that allows Fire-Dex to use thermal liners and moisture barriers that create the lightest-weight composite systems possible.
This three-layer structure also achieves the highest total heat loss ratings according to the NFPA standards – in other words, it's more effective at removing heat from your body.
Having turnout gear with more breathability can lower your physiological stress and make it less likely for you to get overwhelmed while you're on duty.
Most turnout gear with high levels of total heat loss actually end up sacrificing thermal protective performance, which measures how well a fabric protects you from second-degree burns in a flash fire. But the TECGEN71 outer shell doesn't sacrifice its TPP or its durability, and instead balances breathability with protection.
"The TECGEN fiber has significantly lower thermal conductivity than other fibers used in the industry, which means that heat transfers much more slowly with this fiber," said Jenny McPherson, marketing manager at Fire-Dex. "This allows us to reduce the weight and thickness while still maintaining thermal protection."
2. REDUCE WEIGHT AND MAINTAIN DURABILITY
Every firefighter wants to be prepared for the worst-case scenario, but at the same time fit and comfort should also be considered.
The TECGEN71 outer shell is made with the TECGEN fiber, a high-density carbon fiber that makes it possible for Fire-Dex to make the lightest turnout gear that's ever been certified in the United States, said Herring.
"The thicker the material is, the more difficult it is to get that heat energy out," he said, "but with a lightweight and breathable garment like the TECGEN71, you can be more productive on the fireground."
Some have argued that even if it means reducing TPP, wearing lighter turnout gear is worth trying, but the TECGEN71 makes it possible to not make any sacrifices in durability either.
TECGEN71 is engineered with DuPont, Kevlar and Nomex fibers, which firefighters have relied on for their strength and durability.
As some fire service veterans have pointed out, engineering fabric in a way that only focuses on strength can compromise other important attributes for turnout gear like breathability. But the TECGEN71 makes it possible to not make sacrifices in breathability or durability.
3. MAXIMIZE FLEXIBILITY
Your turnout gear should give you the flexibility and maneuverability to minimize your fatigue and stress in a way that will allow you to face any situation. But lack of comfort in most turnout gear has been a complaint among firefighters for years. One study validated that wearing traditional turnout gear can significantly impair your functional balance by slowing down your movement and introducing errors.
"Flexibility in turnout gear plays an important role in doing your job effectively, since you need to move in a wide range of motion," said Herring. "TECGEN71 is much more flexible than your traditional PPE designed to protect you during structural fires, while also giving you the same level of durability and safety outer shells with high TPP would."
Your gear doesn't have to hinder your ability on the fireground. With recent innovations in turnout gear design and technology, you can overcome some of the most critical and common flaws in flexibility, weight and cooling capabilities

Request information from Fire-Dex, Inc.
Thank You!