PRESS RELEASE
Fire-Dex Acquires Marken PPE Restoration, A Nevada-Based Clean & Repair Facility
---
Medina, Ohio — Fire-Dex announced the acquisition of Marken PPE Restoration, a UL verified Independent Service Provider (ISP) of clean and repair services based out of Las Vegas, Nevada. This business is the third ISP Fire-Dex has acquired, following the purchase of Gear Wash in 2019 and Done Right Fire Gear in 2020.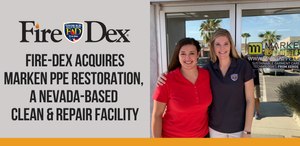 This acquisition will allow the company to expand its efforts to provide clean and repair services to departments in untouched regions throughout the West. The broad service offerings will include advanced cleanings, inspections, repairs, alterations, PPE rental gear, and record keeping. Marken PPE Restoration will act as a fifth Gear Wash location for Fire-Dex, including Milwaukee, WI, Hudson, FL, Pelham, GA, Memphis, TN, and now Las Vegas, NV.    
"At Gear Wash, we couldn't be more excited about this new expansion into Las Vegas and the surrounding areas," states Taylor Burke-Gilman, President at Gear Wash, "This untouched market will allow us the opportunity to make solid connections with new departments while bringing our innovative clean and repair services to them. We are confident that the Marken PPE team will be a perfect addition to our organization."   
With over 11 years of PPE cleaning and repair experience, Marken PPE Restoration operates in a 7,000 square foot facility with a dedicated team of nine associates.   
"The facility and staff at Marken PPE Restoration are incredible," states Steve Allison, Chief Executive Officer at Fire-Dex, "The reliable team at Gear Wash are extremely committed to providing high-quality services to departments as we expand in the West."   
Fire-Dex continues to experience exponential growth by obtaining numerous businesses including Chieftain Safety Manufacturing, TECGEN PPE, Darwood Manufacturing, Gear Wash, and Done Right Fire Gear. The company continues to expand its workforce by aggressively hiring at all locations.    
About Marken PPE Restoration  
Marken PPE Restoration is a UL verified Independent Service Provider (ISP) committed to providing PPE care and maintenance services for first responders. Headquartered in Las Vegas, Nevada, Marken PPE Restoration specializes in advanced cleanings, advanced inspections, advanced repairs, alterations, and customization services that meet industry-established standards and manufacturer requirements.   
About Fire-Dex 
Fire-Dex is a family-owned, global manufacturer of head-to-toe PPE for first responders and an Independent Service Provider (ISP) of PPE care and maintenance under the Gear Wash brand. Founded in 1983 and headquartered in Medina, Ohio, Fire-Dex has a mission "to serve those who serve" and has paved the path of innovation for new products and services that are focused on the health and safety of first responders. To learn more, visit www.firedex.com.  

Request more info from Fire-Dex, Inc.
Thank You!