PRESS RELEASE
Mid-Atlantic Volunteer and Career Fire Department Member receives National Award for Longstanding Home Fire Sprinkler Advocacy
---
The National Fire Protection Association (NFPA) Fire Sprinkler Initiative and the Home Fire Sprinkler Coalition (HFSC) have awarded Paul Eichler of Dover, Delaware, with the 2021 Bringing Safety Home Award.
This award recognizes outstanding efforts by a safety advocate who diligently promotes the importance of home fire sprinklers. It honors members of the fire service and other fire sprinkler advocates in North America who use HFSC educational material, NFPA data, and Fire Sprinkler Initiative resources to educate decision-makers about the importance of home fire sprinklers.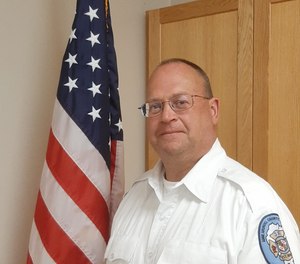 Eichler, who is an Operations Battalion Chief with the Anne Arundel County Fire Department in Maryland and a volunteer member of the Dover Fire Department in Delaware, chairs the Delaware Fire Sprinkler Coalition and has been a champion for the lifesaving benefits of fire sprinklers for many years.
"On any given day Battalion Chief Eichler can be found talking about the need for built-in fire protection in Delaware's new homes," said Lorraine Carli, NFPA Vice President of Outreach and Advocacy and HFSC president. "He uses his voice to educate, encourage and inspire safer communities and we are pleased to recognize these life safety efforts."
Since its inception, Eichler has steered the Delaware Home Fire Sprinkler Coalition through educational and legislative activities in many communities. Among his advocacy work, he has partnered with organizations to present live fire and sprinkler demonstrations that help the public appreciate how fast home fires grow and the power of home fire sprinkler protection. Through his leadership, the Delaware coalition is one of the most active, with 30 members that support the group and stay engaged.
"Considering the myths and opposition from the homebuilding industry, home fire sprinkler advocacy work is challenging," Carli says. "Paul remains undaunted by this and his determination ensures that Delaware will ultimately have safer communities."
As the Bringing Safety Home Award recipient, Eichler was awarded a $1000 grant to further fire sprinkler advocacy and educational efforts throughout Delaware.  
About the Home Fire Sprinkler Coalition (HFSC)
For 25 years, HFSC has developed and provided comprehensive, non-commercial, educational resources that highlight the life safety benefits of protecting homes with fire sprinklers. HFSC's mission is solely educational and its materials are available to everyone at no cost through HFSC's website.
About the Fire SprinklerInitiative®
The Fire Sprinkler Initiative®, a project of the National Fire Protection Association, is a nationwide effort to require the use of home fire sprinklers and the adoption of fire sprinkler requirements for new construction. Visit the Fire Sprinkler Initiative website at www.firesprinklerinitiative.org. 
About the National Fire Protection Association (NFPA)
Founded in 1896, NFPA is a global self-funded nonprofit organization devoted to eliminating death, injury, property and economic loss due to fire, electrical and related hazards. The association delivers information and knowledge through more than 300 consensus codes and standards, research, training, education, outreach and advocacy; and by partnering with others who share an interest in furthering the NFPA mission. For more information, visit www.nfpa.org. All NFPA codes and standards can be viewed online for free at www.nfpa.org/freeaccess.

Request more info from Home Fire Sprinkler Coalition
Thank You!