Hale Launches New Products and Upgrades at FDIC 2011
---
Visit Hale at booth 1823 to see SafeBuy's new bezels, backlit gauges and displays
CONSHOHOCKEN, Pa. — At FDIC 2011, Hale will showcase the SafeBuy™ vehicle-mounted fire suppression system at Booth 1823. Following a year-long tour of the United States' 10 largest fire departments, during which the company gathered input on SafeBuy's design, Hale has added new bezels, graphic overlays and Class 1 displays to the system.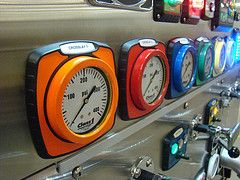 New bezels have been designed to complement the bezels used in Hale's existing line of electronic products. They have tapered and ribbed sides, and they are available in black and chrome variations. The bezels are also available power coated in various colors to help identify different gauges. All color label inserts conform to NFPA 1901 color standards.
Class 1 will also showcase a new series of backlit pressure gauges, which use LEDs to light the liquid-filled gauges. The lighted gauges are available in red, green, blue, yellow and white for 2.5-, 3.5-, 4.5- and 6-inch gauges. They offer bright illumination to increase visibility under extreme fire incident conditions. Class 1's rugged design allows for steady needle viewing under pulsation and vibration normally seen on fire apparatus.
In addition, Class 1 is introducing the UltraView line of displays. The displays feature a fully modular design that allows users to customize more than 100 parameters for electronic engine monitoring and diagnostics. The flexibility and reliability of the UltraView displays make them an ideal fit for SafeBuy.
SafeBuy is a system of critical fire suppression components that have been pre-engineered to work together to ensure an uninterrupted flow of suppression agent. From pump to nozzle — including the pump house, hoses, monitors, valves, safety devices, diagnostics and plumbing — SafeBuy is designed from the ground up to support firefighter safety.
To schedule an interview with a Hale representative at FDIC to learn more about Hale's new and upgraded products, contact Debra Yemenijian at (610) 269-2100, ext. 224, or debray@schubert.com.
About Hale
Hale, based in Conshohocken, Pa., is a fire and rescue equipment company founded in 1914 by three Pennsylvania firefighters who believed they could build a better fire pump. Today, the company has grown through new product innovation and strategic acquisitions to supply pump modules, compressed air foam systems, electronic controls and valves. For more information, visit www.haleproducts.com.