How a new Fla. fire station will pay for itself
Designed to minimize and maximize the sun's impact, this new fire station runs nearly off-grid
---
Fire Station 65 of the Deltona (Fla.) Fire Department was designed and built to be a fire station that helps pay its way. The $2 million, 11,000-square-foot fire station opened for service in August 2012 and has many green technologies that reduce its carbon footprint and save big dollars in operating costs each month.
"When we decided to pursue available energy efficiency grants for the station's construction, we were projecting that we would save roughly $500 per month in electricity costs," said Deputy Chief Robert Rogers. "Today, my electric bill for this station is half of what it would be without the solar panels and the solar water heating system."
How did the fire department do it? They invested in 10 green technologies.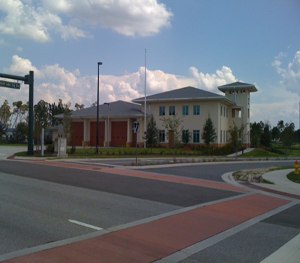 1. Passive solar-energy systems
These are designed to use natural principals of heat transfer instead of machines such as furnaces and air conditioners. The stored heat from the sun radiates through the living space when the temperature drops at night. Builders can install plastic or metal water pipes inside a wall; the sun shining on the walls heats the water in the pipes and that water can be pumped throughout the building as a source of heat.
2. Cool roof
It's more commonly referred to as a white roof and is designed to reflect more sunlight and absorb less heat than a standard roof. Cool roofs can be made with a highly reflective type of paint, a sheet covering or highly reflective tiles or shingles.
3. Green roofs
These use extensive plants and shrubbery to cover the roofing membrane. The greater insulation offered by green roofs can reduce the amount of energy needed to moderate the temperature of a building, as roofs account for the greatest heat loss in winter and the hottest temperatures in summer.
4. Window awnings
These can reduce solar heat gain in summer by up to 65 percent on south-facing windows and 77 percent on west-facing windows. Awnings require ventilation to keep hot air from becoming trapped around the window.
5. Insulation techniques
Improved insulation techniques reduce energy costs by keeping heat out in summer and keeping heat inside the building in winter. These insulation techniques include filling block walls with insulating material like vermiculite, foam or high-bulk cellulose and insulating above suspended ceilings.
6. Windows
All windows for commercial and public buildings are not created equal. The National Fenestration Rating Council provides window performance ratings that are third-party verified and recognized by energy codes as indicators of whole window energy performance. Window selection should be based upon the heating and cooling requirements for a particular locality.
7. Geothermal heating and cooling 
Deep inside our planet is a lot of hot water and steam, and you don't have to dig too deep to take advantage of this energy. Only a few feet below the surface, the temperature of the water remains constant year round, generally about 42 to 80 degrees Fahrenheit depending on where you live.  Geothermal systems use heat pumps to take advantage of this constant temperature. The heat pump can cool a structure in summer and warm it during winter.
8. Energy recovery ventilation systems
This uses site-recovered energy from building exhaust (usually wasted to the atmosphere) to pre-condition fresh outdoor air for temperature and humidity. This pre-conditioning reduces the workload on the heating and cooling system — reducing energy demand for treating outdoor air by up to 80 percent.
9. Hydronic heating systems
These have been around for decades. Remember the old radiators in grandma's house? These days, hydronic heating systems are more sophisticated and use hot water piped through tubes that are run under floors, through radiators or along base boards.
10. Wind
Unlike other water heaters that use electrical heating elements or open flames, a wind turbine is sustainable and can be bolted to a rooftop or some other location where the wind blows. Not only could their prototype provide a station with hot water, theoretically, that hot water could then be pumped through the building and used as a source of heat.

Request product info from top Fire Technology companies
Thank You!