PRESS RELEASE
FLIR Adds New Member to Family of FSX-enabled Firefighting Cameras
---
WILSONVILLE, OR - FLIR Systems, Inc. (NASDAQ: FLIR) announced the addition of the new FLIR K45 to its suite of thermal imaging firefighting cameras. The K45 offers 240 x 180 IR resolution and incorporates FLIR's revolutionary Flexible Scene Enhancement™ (FSX) technology which produces ultra-crisp thermal imagery. The newest member of FLIR's K-Series family will allow firefighters to see even better in total darkness or in smoke-filled rooms.
The K45 with FSX presents accurate thermal images on a bright, large 4" LCD display, allowing firefighters to navigate safely and make accurate decisions when attacking fires and searching for victims. With FSX, details like edges and corners are significantly enhanced and combined with the visible image to create a thermal image with superior detail compared to anything on the market today. 
The K45's intuitive and simple three-button user interface allows the firefighter access all of the camera's controls, even while wearing heavy gloves. Different color modes allow the firefighter to adapt the FLIR K45 to the most demanding situation. The K-Series is also designed to operate in tough operating conditions; it withstands a drop from 2 meters on a concrete floor, is water resistant (IP67), and fully operational for up to five minutes at maximum temperature (up to +260°C / +500°F).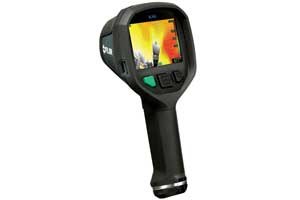 "FSX on the K45 provides firefighters with the sharpest thermal images on the market for easy interpretation to assess the situation quickly and efficiently, keeping them safe while on the job" said Rickard Lindvall, FLIR Vice President and General Manager of Instruments.  "FLIR continues to provide innovative and affordable advances in thermal imaging technology to meet every firefighting department's needs, so outfitting each engine and truck company with a high-performance thermal imaging camera is a reality."
The addition of the new K45 follows the launch of the K55 earlier this year. The FLIR K55 also features FSX, but has a 320 x240 resolution and on-board video recording.  Offered at $4,195, the new FLIR K45 will be showcased at this year's FDIC International exhibition in Indianapolis, IN, and is available for purchase globally through established distribution networks beginning April 22nd, 2015. The K45 also comes with FLIR's exclusive warranty covering the full camera for two years and the detector for ten years. Visit www.flir.com/fire for more information on the new K45.

About FLIR Systems
FLIR Systems, Inc. is a world leader in the design, manufacture, and marketing of sensor systems that enhance perception and awareness. FLIR's advanced systems and components are used for a wide variety of thermal imaging, situational awareness, and security applications, including airborne and ground-based surveillance, condition monitoring, navigation, recreation, research and development, manufacturing process control, search and rescue, drug interdiction, transportation safety, border and maritime patrol, environmental monitoring, and chemical, biological, radiological, nuclear, and explosives (CBRNE) threat detection. For more information, visit FLIR's web site at www.FLIR.com.

Request more info from FLIR Systems, Inc.
Thank You!