Technology takes heat out of tunnel fires
---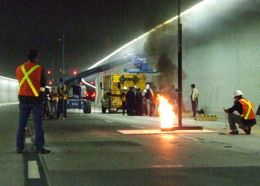 Photo courtesy of NRC
Testing takes place at the National Research Council's facilities in Ontario earlier this year.
Tunnel fires can be among the most difficult incidents for firefighters to tackle.
The inferno that engulfed a freeway tunnel north of Los Angeles after a pileup that killed three people earlier this month showed their ferocity.
About 300 firefighters battled the blaze throughout the night, with one Los Angeles County firefighter saying, "It looked like a bomb went off."
With an increase in both the number of tunnels and the vehicles that use them, more attention than ever is being paid to tunnel fire safety.
The way firefighters tackle and are warned of such fires could change drastically in the coming years thanks to advances in technology.
A major two-year research project in the United States and Canada that studied the effectiveness of existing fire detection technologies in tunnels comes to a close next month.
Manageable fires
Ahmed Kashef, a senior research officer with the Fire Research Program at Canada's National Research Council, said detection can make the difference between a manageable fire and one that gets out-of-control.
"The tunnel environment is a very harsh environment," Kashef said. "The early and better control of a fire means you're likely to fight a smaller fire."
Kashef's organization was joined in the project by the Institute for Research in Construction and the Fire Protection Research Foundation.  
"The main idea of the study is to look at some of the strengths and weaknesses of the various different types of systems and what can affect their performance," Kathleen Almand, executive director of the Fire Protection Research Foundation, said.
"Although there's been a lot of tunnel fire research done in Europe and some domestically, there's been very little done on the performance of detection systems."
The study has focused on five main technologies that can be used in tunnels to detect fires:
Linear heat detection systems

Flame detectors

CCTV visual fire detectors

Spot heat detectors

Smoke detection systems

Almand said the results of the study, due to be released next month, will be used to update NFPA 502 Standard for Road Tunnels, Bridges, and Other Limited Access Highways.
"This is used around the world," she said. "Some of the information developed here in this project will be used to inform that standard."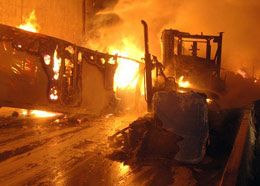 AP Photo/Mike Meadows
Trucks burn in the Calif. tunnel fire on October 12.
The study will also help manufacturers and authorities decide which type of detection system is best suited to any given tunnel, according to Kashef.
It has been broken down into three areas — laboratory testing, field testing and computing modeling — in order to get the best results.
For the laboratory testing, researchers are using the National Research Council's state-of-the-art facilities in Ontario, where a model of a tunnel, about 33 ft wide and 130 ft in length, has been built.
In addition, tests have also been conducted in real, working tunnels in Montreal City and the Lincoln Tunnel in New York.
Computer modeling
Finally, computer modeling work has been done to bring the results of the first two series of tests together and provide hypothetical scenarios.
Kashef said the study was vital in improving fire safety in tunnels — and therefore firefighter safety — because of the increase of vehicles on the roads using existing tunnels and the trend of building more tunnels to improve transport links.
"We are seeing an increase in truck size, and using trucks is also becoming a more economical way to transport things," he said. "We are seeing more tunnels, too, as they're seen as a way to create more roadways without making it too crowded on the surface."
The giant strides in fire-related technology are not limited to tunnel detection systems. Earlier this year, four departments in Virginia became the first in the country to acquire a LUF60, a mobile remote controlled firefighting machine that helps extinguish fires in confined areas such as tunnels.
The unit, which has a high capacity positive pressure ventilator and a "water beam" fog, clears the path for advancement of a distance of up to 1,000 ft.
Jim McLaughlin, sales manager for Singer Associates Fire Equipment, which distributes the unit, said it clears away smoke and toxic gases and reduces the fire's intensity, allowing firefighters to tackle the blaze more safely.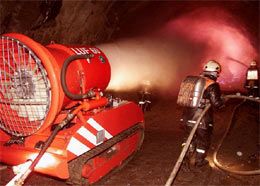 Photo Dietmar Mathis
The LUF60 gets a workout dealing with a tunnel fire at a test tunnel in Austria.
"This can literally control the atmosphere within the tunnel, so firefighters can get to the fire," he said. "It pushes all the heat and smoke away, so the firefighters can get close to the seat of the fire and then use conventional means to put it out. The old military saying was to send in the tanks before the infantry. With this, you can send in the LUF60 before the firefighters."
The Newport News Fire Department, one of the departments in Virginia to have acquired the machine in January, has yet to operate it in a real scenario, but has used it in training.
"We've used it on our burn building and it really did cool the area down," department PIO Dana Perry said. "It created some positive ventilation that allowed our personnel to get much closer in a much safer environment to work in."

Request product info from top Fire Simulation companies
Thank You!