First Responders Witness Real-life Rescue Operation at Fire Expo 2012, Harrisburg, PA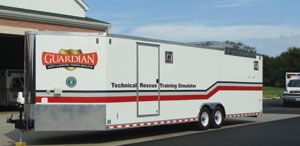 Harrisburg, PA — A large group of New York City Firefighters chartered a bus to bring them to Fire Expo 2012 at the Pennsylvania State Farm Show Complex in Harrisburg, PA last weekend (May 18-20). One item topped their list of things to see: the Guardian Mobile Collapsed Building Training Simulator. They joined a multitude of others, some coming from as far away as West Virginia and Maine, anxious to get their first look at this innovative simulator, making its first appearance in the area.
Presented jointly by Personal Protection Equipment Specialists (PPES) and the Lancaster County Fireman's Association, the Guardian quickly became the hit of the 3-day convention. It was the first time that many of the attendees and the media were able to watch the action inside a collapsed building as firefighters fought to rescue a fellow first responder trapped under piles of debris. Making this possible was a series of cameras positioned throughout the interior of the simulator, capturing the drama as it unfolded inside and projecting the heroic efforts onto a big screen located nearby the Guardian.
Anyone who has ever seen the Guardian in action is impressed by the realism of the training exercises, the most common comment being that the experience is "as real as it gets." Chris Papst of CBS Harrisburg affiliate WHP-TV covered the Guardian in a report that aired on Saturday, July 19, noting that when "a firefighter goes down it takes a lot of manpower, training, planning and preparation to get that person out. This simulator creates life-like conditions...so firemen can be ready for anything."
So popular was the event that this patented, one-of-a-kind collapsed building simulator has already been invited back to next year's Expo.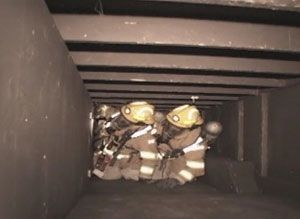 Periodically throughout the long weekend rescue parties crawled through the two levels of narrow spaces that simulate the remains of a pancaked building. Extraction required stabilization of the treacherous environment: shoring up flooring, breaching rebar and removing piles of debris in order to access and extricate the victim from the simulated life-threatening environment. Between training exercises, a series of invaluable demonstrations and lectures were presented.
Able to replicate over 200 different scenarios, the Guardian's versatility is what makes it so extremely valuable to organizations like FEMA Urban Search & Rescue operations, terrorist task forces, Federal law enforcement, the military, emergency medical service providers and local volunteer firefighters. The list of catastrophes is seemingly endless and includes such frightening scenarios as earthquake aftershocks, terrorist explosions and cave-ins. Even the leaking valve dome of a tanker railcar can be simulated with startling realism.
Founded in 1996, PPES is a full-service provider of rescue and training equipment. The company specializes in meeting the needs of first responders of all disciplines. In addition to the Guardian Mobile Collapsed Building Training Simulator, PPES provides Rescue and EMS equipment, service, training and certification.
More information is available on the PPES website, www.PPES.US or by contacting Jay Gundel & Associates at (302) 658-1674. Photos, video footage and details of this innovative simulator are available and demonstrations can be arranged by request.