PRESS RELEASE
Fire-Dex Announces Daily Giveaways for their Annual Firefighter Appreciation Event.
---
Beginning on Monday, November 9, 2015 and continuing every day until Friday, November 20, 2015, Fire-Dex will be giving away a daily prize for our Annual Firefighter Appreciation Event. The grand prize winner will be awarded a complete set of head-to-toe Fire-Dex gear on Day 12, November 20th.
New this year, each daily winner will receive an individual prize PLUS a bonus prize for their firehouse. Now that's a cool +1.
To enter, click here and enter your information. You only have to enter your information once to be eligible for all remaining drawings AND you can do it at any time during the 12 days. For instance, if you forget or haven't entered the drawing and it's November 10th, simply go to our Facebook page, or to our blog, and sign up.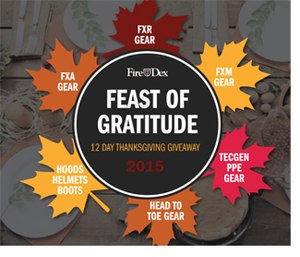 We will announce the winner each morning on our blog, Facebook, Twitter, LinkedIn and Instagram.
Here is the complete list of daily giveaways:
Day 1 – Fire-Dex Hood + Rising Star Coffee
Day 2 – Fire-Dex Helmet of choice + Fire-Dex Apron
Day 3 – FDXL – 50 Grey Leather Boots + Fire-Dex Mugs
Day 4 – FDXL – 100 Red Leather Boots + Fire-Dex Pint Glasses
Day 5 – Fire-Dex Hood, Helmet and FDXL-50 Grey Leather Boots + Beats Pill Speaker
Day 6 – TECGEN PPE Level 1 Gear + Custom Corn Hole Set
Day 7 – TECGEN PPE Level 3 Gear + Grill
Day 8 – Chieftain Gear + Basketball Hoop
Day 9 – FXA Gear + GoPro Hero 4
Day 10 – FXM Gear + Xbox One Elite
Day 11 – FXR Gear + Xbox One Elite and $120 GameStop Gift Card
Day 12 – Full Set of Fire-Dex Head to Toe Gear of Choice + $1000 Gift Card for Thanksgiving Dinner
About Fire-Dex
Fire-Dex, headquartered in Medina, OH, is a leading manufacturer and marketer of protective firefighting clothing, emergency response apparel, NFPA hoods, helmets, gloves and boots. For more information on Fire-Dex visit www.firedex.com. Also, see more at www.fire.tecgen.com.

Request more info from Fire-Dex, Inc.
Thank You!