Digital Ally Launches FleetVu Manager, a Cloud-Based Fleet Video Storage and Driver Management Solution
---
Starting July of 2014, Digital Ally is offering a cost effective cloud telematics and video storage system in addition to the company's current on-site server storage options for your fleet management needs. The cloud solution, called FleetVu Manager, offers the same incident video management and fleet reporting capabilities as Digital Ally's on-site solution, with a new and improved user interface and reporting that can be enhanced with future, customizable live asset tracking modules.
Over the past few years, cloud applications and storage have become popular among businesses for a number of reasons. The cloud is a simple storage option with low maintenance requirements and upfront cost. Additionally, cloud storage uses multiple off-site servers to back up and secure data against hardware failures, intrusions or disasters.
The flexibility of Digital Ally's cloud solution gives users the ability to securely access data from anywhere with an internet connection on a variety of devices, whether desktop, laptop, smart phone, or tablet. This lets you and your team operate in real time regardless of location, increasing the overall efficiency of your business. It also upgrades automatically, allowing users to always utilize all the newest capabilities on the most current operating systems.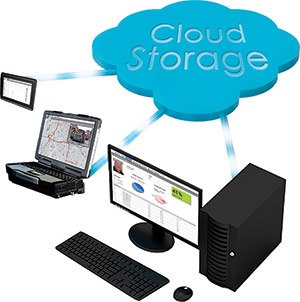 Digital Ally's FleetVu Manager is not just for storage. It provides an efficient, user friendly interface with which to analyze fleet performance with automated driver behavior statistics and customizable reporting, access detailed driver and vehicle information, manage your Video Event Data Recorder (VEDR) equipment with wireless configuration and firmware updating as well as functionality checks, set alert triggers and geo-fencing, review incident video and causality data with interactive route maps, and more to enhance driver safety, reduce maintenance and related expenses, and improve performance.
About Digital Ally's Video Event Data Recorders
Digital Ally's Video Event Data Recorders improve visibility for safer vehicle backing up, exiting and operation while automatically recording a constant loop and/or individual incidents from up to 8 uniquely triggered cameras to supply proof against fraudulent claims for sizable litigation savings; a reduced number of incidents for vehicle damage, maintenance and insurance savings as well as employee safety benefits; GPS tracking for fuel savings; extensive data for customizable reports to identify risky behavior and exceptional drivers; and more.
The systems are integrated into a rear-view mirror so that they do not interfere with the driver's line of site, violate equipment mounting location laws, or take up valuable space. Their design allows for easy installation into any type of vehicle, including those that did not previously include a rear-view mirror.
About Digital Ally, Inc.
Digital Ally, Inc. has been providing advanced mobile video solutions to governmental and commercial fleet markets for 10 years. Thousands of customers in all 50 states and around the world utilize Digital Ally's vehicle-mounted and body-worn video systems and management applications. For more information, contact Digital Ally at 800-440-4947 or +913.814.7774, sales@digitalallyinc.com or visit www.digitalallyinc.com.