PRESS RELEASE
PRO-VISION announces new line of 4G mobile video systems
---
New lineup of video recording systems with built-in 4G modems designed for improved fleet management.
BYRON CENTER, Mich. — PRO-VISION® Video Systems, the proven leader in mobile video technology and software, announced today the release of its new line of video recording systems with built-in 4G modems for improved fleet management.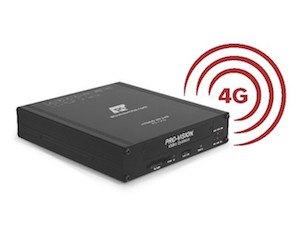 With the addition of 4G modems to PRO-VISION® video recording systems, users can utilize a 4G connection to easily track their fleet vehicles, receive event notifications and access cameras views – all in real-time.
The built-in 4G modems also allow for simplified configuration updates to the systems, making the process of installing and updating systems easier than ever.
"Adding 4G capabilities to our systems will make it even easier for our customers to manage their fleet," said Dan Strock, commercial division sales manager at PRO-VISION®. "This new feature combines our rugged and reliable video recording systems with real-time GPS tracking and fleet management features they need to effectively manage their fleets. We set out to make their jobs easier, and these new 4G systems will do just that."
For more information on PRO-VISION® video recording systems or PV Dashboard™ fleet management software, visit provisionusa.com.
About PRO-VISION®
Since 2003, PRO-VISION® has been engineering, manufacturing and installing Reliable, Simple, Affordable™ mobile video recording systems and software solutions for the school bus, transit, law enforcement and commercial markets. PRO-VISION® products increase safety and reduce liability for thousands of organizations in nearly 50 countries around the globe. Recognized by Inc. magazine as one of the fastest-growing private companies in America for seven consecutive years and as a Deloitte Technology Fast 500™ company, PRO-VISION® takes pride in offering the highest quality products backed by the absolute best customer and technical support. For more information, visit provisionusa.com.