Braun Industries Releases 2009 Ambulance Models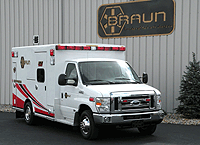 VAN WERT, Ohio – Leading ambulance manufacturer Braun Industries, Inc. has redesigned its 2009 ambulance models to improve interior comfort and reflect today's new vehicle styles.
Braun's custom ambulances feature new rounded corners on interior counters, cabinets and benches that are less obtrusive for both patients and crew members. The fresh design is available in each of the manufacturer's quality ambulance modules – Super Chief, Chief XL, Raider, EMT and Express – all offering optimal storage, usable payloads and easy maneuverability.
The first 2009 model year ambulance – an Express III mounted on a Ford E-350 chassis – will debut in the Braun booth (#1032) during EMS Expo, Oct. 13-17, 2008, at the Las Vegas Convention Center, Las Vegas, Nev.
"Our engineers have designed this updated interior for Braun's 2009 model year ambulances to provide better movement inside the unit, which can lead to our ultimate goal of improved patient care," said Phil Braun, president and CEO of Braun Industries, Inc. "Along with the rounded cabinets and counter tops, we build all of our ambulances with an arched roof, a Braun exclusive that increases interior head room and eliminates water from pooling on top of the ambulance."
Additional benefits include the company's SolidBody™ construction, in which the floor, roof, side and doors are all constructed from brake-formed parts with full contact welded seams to add strength to its ambulances, as well as exclusive VitalMax™ angled fluorescent lighting that directs light onto the patient and eliminates shadows for staff to provide better patient care.
The company's EZ Glide™ Door is another benefit that lets rescue personnel safely slide the ambulance door against the module rather than out into traffic. Plus, Braun's high-quality modules can be remounted several times on new chassis to save customers the expense of replacing entire units.
Braun Industries, Inc. has built custom, handcrafted ambulances since 1972. A recognized leader in ambulance design and construction, Braun offers exclusives such as Braun SolidBody™ Construction, the EZ Glide™ Sliding Door, the MasterTech™ III Multiplex Electrical Control System and the VitalMax™ Lighting System. Braun is a member of the National Truck Equipment Association (NTEA) and Ambulance Manufacturers Division (AMD). The company is headquartered in a 115,000-square-foot facility housed on 13 acres in Van Wert, Ohio.
For more information, visit www.BraunAmbulances.com, call 419.232.7020 or write to:
Braun Industries:
1170 Production Drive,
Van Wert, OH
45891.