I Want My ATV, Time To Learn Safety
By Byron Brewer
Georgetown News-Graphic
Tuesday, May 5, 2009 6:13 AM EDT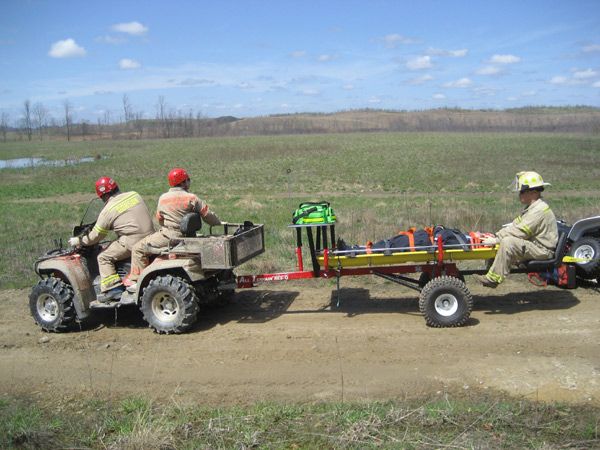 I will be frank. I did a lot of reporting about the rural roots of Scott County during my years with Georgetown's newspapers and was aware of many of the dangers inherent in agriculture. But it was not until I had left behind the flat-topped News-Graphic building on Cherry Blossom Way in 1999 for the spiraling Capital Plaza Tower in Frankfort that I became aware of the mounting threat of all-terrain vehicles.
It was when I became an information officer for the Kentucky Department of Agriculture that I first met Dale Dobson, a certified emergency responder who started a farm safety program in the early 1990s and was hired by KDA in 1998, when he started its program. No man has ever been more dedicated to a cause than Dale, traveling the calendar year throughout the Commonwealth with his message of safety.
Dale speaks to farm organizations, community groups, school groups, 4-H groups, FFA groups and others. While I worked at KDA, I found out more about ATVs in my beloved Scott County - and about their usage, "right or wrong," as Dale would say - than ever before. I was also proud to call Dale my friend.
One of the joys of working in the public information branch of KDA was helping promote and take >part in Dale's mock ATV accidents. The Department's Farm and Home Safety Program travels the state to remind people of the dangers of farming and show them how they can stay safe on the farm. It has taken on the challenge of promoting ATV safety as the number of machines and accidents has climbed in recent years.
Dale often coordinates a mock ATV crash to demonstrate the consequences of a bad decision, using pre-selected "victims" acting the part for emphasis.
Dale's program developed an ATV safety course to teach safe riding practices and conducted it as a pilot project in late 2005 and early 2006.The Department of Agriculture hopes to obtain funding to make the course permanent and take it statewide. I know that, even with the urban boom and the rise of rooftops around Frankfort Pike and Newtown, much of Scott County is still rural. Ask anyone on the county roads near Sadieville about ATVs and they will appreciate Dale's efforts, I assure you. Ask Sheriff Bobby Hammons. All you have to do is wait long enough and there will be another ATV accident headline in the News-Graphic ... hopefully not in the obituaries section.
I recall when I worked the National FFA Convention in Louisville with Dale. We had a booth that featured, among other things, a crash dummy in a demolished ATV along with two lists of safety tips for the proper operation of such vehicles. I was alone (Dale had gone on a break) and an FFA student from a Midwestern state - I cannot recall where now - slowly made his way toward the exhibit in a motorized wheelchair.
He pulled up beside me and said, "Sir, I saw this exhibit last year and I really did not pay attention to it. A few weeks later, I had an ATV accident on my cousin's farm and I can't walk anymore. I hope more FFA members pay attention to it this year and do not have to wait until after their accidents. It is a very important message. It's a very important exhibit."
I had a tear in my eye as he motored off, and I could not get Dale to stop crying as I told him about it. I cannot remember if Dale ever met that FFA member, but it was certainly my privilege to have made his acquaintance. It made me more passionate than ever for the promotion of that particular
exhibit, as it did for everything agricultural I worked on until my illness in April 2004.
Kentucky is second in the nation with over 140 total reported ATV deaths from 2003 to 2006 and first in the nation for such deaths involving persons age 21 and under, according to the Consumer Product Safety Commission. Taking a few simple steps will help ATV drivers keep it safe and still have fun:
• Get proper training on driving an ATV.
• Wear a helmet and protective clothing.
• Do not operate an ATV on paved roads.
• No one other than the driver should ride an ATV.
There is no reason why everyone cannot be safe and still have their ATV.
Byron Brewer, a former managing editor of the News-Graphic, is a Frankfort resident. He can be reached at b-rbrewer@hotmail.com