New 'All Terrain Res-Q' Off-Road Patient Transport Trailer Donated to Ky. Dept. of Agriculture's Farm & Home Safety Program
---
FRANKFORT, Ky - The following images by Mike Brady were taken behind the Kentucky Department of Agriculture's (KDA) building in Frankfort, Ky.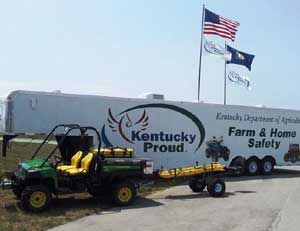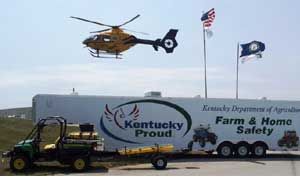 Several officials from KDA and ///EMERGENCY EQUIPMENT gathered to commemorate donation of a new All Terrain Res-Q (ATR) off-road patient transport trailer to KDA's Farm & Home Safety Training Program. Along with the rescue trailer, a new JUNKIN basket stretcher was provided to complete this patient transport system.

The ATV tires on this ATR are equipped with TireBalls Run-Flat tire protection system donated and installed by The TireBall Company. The ATR is towed by a John Deere 4X4 Gator 825i XUV donated by DEERE & Co., and outfitted with a MedLite EMS / Rescue insert donated by KIMTEK Corp. The MedLite insert has a JUNKIN 'break-apart' stretcher and TURTLE Tile matting installed on the stretcher deck provided by ///EMERGENCY EQUIPMENT.

These photos represent a great example of public and private partnerships at work. Many thanks to all the contributing companies who made this possible.

For more information visit  www.EEResQ.com.

Request more info from Emergency Equipment
Thank You!