Spotlight: How Task Force Tips helps firefighters do more, risk less
From a single nozzle to thousands of water flow products
---
Company Name: Task Force Tips
Headquarters: Valparaiso, IN
Signature Product: Water Flow Products
Website: http://www.tft.com and http://newforce.tft.com
Task Force Tips (TFT) is a leading U.S. supplier to the global fire and rescue markets that designs and manufactures thousands of water and foam flow products to help firefighters do more and risk less. By combining extensive engineering, precise manufacturing and superior customer support, TFT customers around the globe are better able to save lives and property. TFT products include nozzles, monitors, valves, foam equipment and a wide range of solutions for both wildland and industrial firefighting.
1. Where did your company name originate from?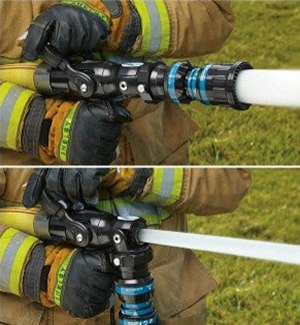 In 1957, Clyde McMillan, TFT's founder, created the Fire Task Force, a civil defense fire department based in Gary, Ind. As Chief, McMillan and his department were faced with a lack of water flow and a lack of different sized fog nozzles to adjust for varying flows. As a result, he invented the automatic combination nozzle. As Chief McMillan began his company to market the nozzle, the name Fire Task Force Innovations just made sense to him. Later the company became Task Force Tips.
2. What was the inspiration behind starting your company?
Volunteer firefighter and TFT founder Clyde McMillan used a smooth bore nozzle to fight a fire at Standard Oil Company in Whiting, Ind. Three million gallons of naphtha exploded, and his nozzle did not have a spray pattern to protect him, so he ran. He suffered third-degree burns down his back, legs , and arms; McMillan recovered from his injuries. On May 10, 1968, McMillan drew his idea for an automatic fog nozzle on a white paper napkin. This napkin has been preserved and is proudly displayed in the Task Force Tips fire museum.
3. What is your signature product and how does it work?
Most people would say that our "signature product" is an automatic nozzle. However, it's important to note that TFT has hundreds of other products made in thousands of different configurations. These include monitors, valves, foam products along with our lines of smoothbore, fixed and selectable and automatic combination nozzles. The automatic nozzle is similar to an automatic transmission. As the vehicle speed (flow) increases or decreases, the correct gear (nozzle opening) is automatically selected, producing proper stream pressure and hence quality all the time.
4. Why do you believe your products are essential to the fire community?
TFT was founded by a firefighter with an important mission that remains unchanged today: help firefighters respond more effectively and safely. In short, we exist to provide products and services that help the fire service "do more and risk less."
5. What has been the biggest challenge your company has faced?
Because not every department around the globe fights fire the same way and needs the same tools, TFT has developed thousands of product configurations. While we believe TFT offers the broadest selections of fire nozzles in the industry, at times we are challenged to effectively communicate how many other products we make like monitors, intake valves, manifolds , and foam systems. One way we've simplified a portion of our product line was by creating the New Force line of products that offers flexible options, wide distribution and consistent pricing regardless of which dealer you prefer.
6. What makes your company unique?
Two words: innovation and service. Since day one, the company has been about responding to the needs of the fire service with new solutions. In fact, one of TFT's on-going corporate goals is that new products account for 15 percent of our revenue stream. In addition, building relationships and providing top notch customer service has been the standard and is part of what sets us apart from our competition. A real live person has always answered the phones during business hours, and the technical service team has always answered calls 24/7/365, ever since it rang into the McMillan home in the early years.
7. What do your customers like best about you and your products?
Almost every week we have visitors from across the nation and around the globe. The single most frequent comment we hear is about our employees. Customers see that they enjoy their work, love their company and truly understand the importance of what we do for those that risk their lives every day.
8. What is the most rewarding part of serving the first responder community?
Hearing from users that our products helped them and the communities they serve. We try and share those stories regularly with our employees so everyone understands our mission.
9. Do you support any charitable organizations within public safety?
TFT was founded on a principle of giving back to our community and to the fire service. In 2016, the McMillan Family Foundation, Inc. (created by Stewart McMillan, TFT's CEO), in partnership with the Indiana District 1 Firefighter Training Council, established the Multi Agency Academic Cooperative (MAAC) Foundation. The group is currently in the process of finishing a state-of-the-art campus that will serve as a leading provider of safety, emergency preparedness, and response training for fire, EMS and law enforcement personnel. http://www.maacfoundation.com/
10. Is there any fun fact or trivia that you'd like to share with our users about you or your company?
TFT employs a full-time pilot for the company's Pilatus aircraft. The 7-seater is used to bring customers to the plant from around the nation. Through our fly-in program, visitors can see TFT's facility and products. Guests also meet our team face to face so that they can understand how passionate we are to support our first responders.
11. What's next for your company? Any upcoming new projects or initiatives?
In the near future, we'll be in full production on our smallest monitor to date for wildland applications (EF1), our largest monitor to date for industrial use (Tsunami) and an innovative cleaning agent distribution system to help mitigate firefighters' exposure to carcinogens on their PPE.

Request product info from top Fire Nozzles companies
Thank You!