PRESS RELEASE
Coaxsher Receives Positive Feedback from Customers
---
end picture
WENATCHEE, WA - Coaxsher a leading manufacturer of wildland and SAR packs has received numerous reports of positive experiences with their products. Here a few accounts from the customers themselves: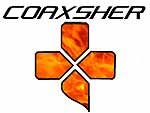 "On my many quests to find a perfect way to hold my radio, after a late-night search on the Internet I finally stumbled upon the Holy Grail of radio chest harnesses made by Coaxsher. The units are comfortable, functional, durable, affordable, and flexible. Everyone who checked out this radio chest harness said it felt great."
Mark G. Hopkins, Chief, Greater Philadelphia Search and Rescue
"Product Preview" AUG/SEPT 2002 Issue, Advanced Rescue Technology
---
"Just thought I would drop you a quick note to let you know I received the radio vest I ordered from your company in the nick of time- I got it Friday afternoon, dropped it off at the fire base with my  wildland gear Saturday morning, and that afternoon, got called out for a 100+ acre wildland fire.   The radio chest harness worked great, no problems with the Kenwood radios that our fire department uses- last week I borrowed a Motorola radio harness from our assistant chief, for some live fire wildland training, and I had continual problems with the radio wanting to fall out of the harness.  No such problems with your pack!  In and out of a Type-6 engine all afternoon, and running around fighting multiple flanks with no problems of the radio wanting to leave my company!  The vest was very comfortable to wear, and everything worked fine.
Thanks for a great product in the nick of time!"
Dayle Flynn
Firefighter with Columbus, MT Fire-Rescue Department
---
"Hey,  My name is Mindy Badovinatz and I just received my new RCP-1 Pro radio chest harness today and must say that I love it. I am a member of the Rocky Mountain Rescue dogs here in Salt Lake City, Utah. We are a non-profit volunteer k9 search and rescue group. Currently our group is growing by leaps and bounds and as we order more radios for members, we have a need for more radio harnesses. I know that there are going to be a lot of people interested in my new harness.
Thank you very much, Mindy
P.S. you guys have a wonderful product."
Mindy - K9 Search and Rescue handler with Rocky Mountain Rescue Dogs
---
"To Whom it May Concern - I would like to take a moment to say thank you for making such a great product as the RCP-1 Pro Radio Chest Harness.  Prior to purchasing the RCP-1, I had owned several radio harnesses and the RCP-1 is by far the best radio harness that I have come across.  It's many pockets and large storage pouch make it an ideal harness for our search and rescue activities.  And the price cannot be beat.  Several members of my team have taken notice of your product and have purchased a harness for their personal use.
I will not hesitate to recommend your products.  Thanks for making a great product at such a reasonable price."
Sincerely,
Louis Villa - Unit Coordinator, Sonoran Search and Rescue

Request more info from Coaxsher
Thank You!