PRESS RELEASE
Firequick Provides Rugged Ignition Tools for Wildland Fire Management
---
Firequick Flare Systems have been designed collaboratively with the USDA Forest Service specifically for wildland fire control and prescribed fire needs. Reviewed and approved by Missoula Technology Development Center, as well as the U.S. Bureau of Alcohol, Tobacco and Firearms, Firequick flares and launchers are noted as the preferred ground ignition tool of many federal, state, regional and private firefighting agencies.
Firequick flares and launchers provide an effective means of starting fire at a safe distance from the user. Given the flare's high performance characteristics, the fire ighter should have no trouble obtaining ignition in complex fuels, difficult terrain and challenging environments.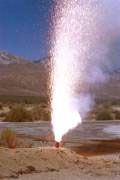 Sales of the Firequick product line are limited to qualified professional fire fighting organizations.
All users should adhere to proper use and safe handling techniques. Detailed information is available in the User Training Workbook; available under "Accessories". Only Firequick flares should be used in Firequick Launchers. This manufacturer assumes no responsibility for any deviation from this directive.