As FFs recover from double-apparatus crash, officials assess costs of damage
Manchester Fire Chief Dan Goonan said the crash capped off a difficult week for the department as they'd recently mourned the loss of a rookie firefighter
---
Paul Feely
The New Hampshire Union Leader, Manchester
MANCHESTER, N.H. — The fire chief of Manchester, New Hampshire says his department is ready to determine if any equipment on two fire trucks that crashed into each other and a pickup truck Friday can be salvaged.
The crash — which sent nine to local hospitals, including eight firefighters, and severely damaged both trucks — capped off a "sad and difficult week" for Manchester firefighters after losing a rookie member of their ranks last Sunday, Fire Chief Dan Goonan said.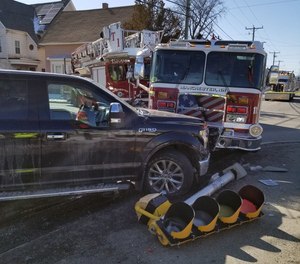 "It's taken a toll," said Goonan.
The two fire trucks — Ladder 1 and Engine 11— were responding from Central Fire Station to a reported porch fire on Arlington Street just before 12:45 p.m. Friday and were at the intersection of Maple and Bridge streets — about six blocks from the blaze — when they collided with a Ford F-150 pickup truck.
Eight firefighters were hurt in the crash and taken to Catholic Medical Center and the Elliot Hospital. All eight were home by 5 p.m. Friday, Goonan said. All eight are expected back on the job by early March at the latest, officials said.
"They're doing okay, but some of them are taking it pretty hard," said Goonan. "The drivers especially, they wonder if they could have done something different. It was traumatic, any witnesses who were near there all said they heard a loud crash when they hit. It was serious, but thankfully very rare."
According to Goonan, the last time an accident like this one happened was 38 years ago.
According to reports in the Union Leader, in October 1982 two fire trucks — ironically Engine 11 and Truck 1, the same companies involved in last week's accident — crashed into each other twice in less than two weeks.
On Oct. 1, 1982, Engine 11 and Engine 1 crashed at the intersection of Beech and Valley streets, sending four firefighters to local hospitals. Then on Oct. 13, Engine 11 and Truck 1 crashed at the intersection of Maple and Hanover streets. That crash was considered a minor "fender bender," according to Union Leader accounts of the incident.
"Forty years between accidents like that? That's pretty good, considering the thousands of calls a year we respond to," said Goonan.
Last Friday's crash severely damaged both two fire trucks, Goonan said. Replacing both could cost the city between $1.6 million and $1.7 million. Goonan said his department will start going through both vehicles with representatives from the manufacturer to determine if any of the equipment is salvageable.
"Then we'll have conversations with the mayor and aldermen about replacing them," said Goonan, who added he is unsure how much money may be available to use in the city's insurance fund.
The city has "contingency plans" in place, such as three spare engines, to cover when equipment is out of service for maintenance reasons, Goonan said, but doesn't have extra ladder trucks.
Friday's crash came after a wake was held Thursday night at Goodwin Funeral Home for Manchester Firefighter Mason Murphy, 25, who was found dead at his apartment on Feb. 16.
"A captain and district chief had just come back from escorting Firefighter Murphy's body to Rhode Island for burial Friday when the accident happened," said Goonan. "They were back about an hour or so when the accident happened, then the oil truck hit the house ... it was a busy day."
———
©2020 The New Hampshire Union Leader (Manchester, N.H.)
McClatchy-Tribune News Service