Vintage fire truck crashes after being swiped by 18-wheeler
The fire truck is an old model that is no longer in service, and police were waiting for the driver to be finished at a hospital before asking if he owns it
---
By Robin Fitzgerald
Sun Herald
BILOXI, Miss. — A vintage fire truck crashed on Interstate 10 on Monday, coming to rest against a concrete wall on the Tchoutacabouffa River Bridge, police say.
It appears the fire truck swerved after a semi-truck side-swiped it, Biloxi Police Maj. Christopher De Back said.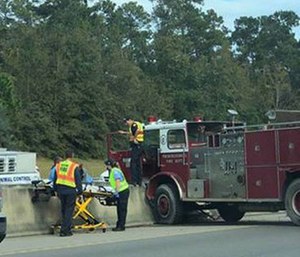 The driver of the fire truck was taken to a hospital to be checked out, De Back said. It didn't appear that he was injured. The concrete divider wall kept the fire truck from entering the opposite lanes.
To the casual driver, it appeared to be a crash involving a firefighter. But the fire truck is an old model that's no longer in service, De Back said.
"The VIN comes back to Louisiana, but it had been sold," he said. The truck said "Fredericksburg Fire Dept." on the side.
Police were not immediately able to confirm who owns the fire truck. They were waiting on the driver to be finished at a hospital before asking if he owns the truck or was delivering it to someone, De Back said.
Copyright 2018 Sun Herald
TRAFFIC ALERT: Accident involving a vintage fire truck is tying up eastbound traffic on I-10. This is just past the Lorraine Cowan exit. Avoid area or take an alternate route if you can. @WLOX pic.twitter.com/lmtdPuPrto

— Desirae Duncan WLOX (@DesiraeWLOX) November 19, 2018
McClatchy-Tribune News Service