Sacrifice of fallen Worcester firefighter inspires potential volunteers
Days after Fire Lt. Jason Menard died rescuing members of his crew, several toured a local fire department hoping to follow in his footsteps
---
By FireRescue1 Staff
SOMERVILLE, Mass. — Worcester Fire Lt. Jason Menard's courageous actions before his death fighting a three-story blaze last week have inspired some to join their local fire department.
A group of 20 New Englanders visited an open house at the Somerville Fire Department on Saturday, according to the Boston Herald, and some directly credited Menard with a newfound desire to become firefighters.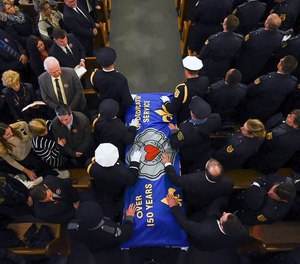 "It definitely motivated me to come in," said Devon Courtney, 33, a Somerville resident. "The heroism, the greater-good component, those are all things that played a big factor for me."
Another Somerville local, Luis Rivera, said hearing about Menard's sacrifice made him want to pursue a career that could provide an example of community service and bravery to his three sons.
"That man was a good man," Rivera said. "What he did was put his life on the line. That says a lot; he died a hero. It kind of motivates a lot of us to try to get into this. We all want to be heroes in some way or another."
Somerville Fire Chief Vincent Lampley helped lead the open house, providing tours of the fire station, explaining the challenges and requirements of becoming a firefighter, and answering questions from prospective applicants.
"Knowing that Lt. Menard just passed away and people see that and it incites them to come and apply, that's great," Lampley said. "It feels good. It lets me know that people still care and want to do the job even though they know what the risk is."
Menard died while searching with other firefighters for residents reportedly trapped on the third floor of a burning building in the early morning hours of Nov. 13. The 39-year-old fire lieutenant led several of his fellow firefighters to safety, saving their lives, before dying in the blaze, according to Worcester fire officials.