FDNY aims to transform firefighter safety culture
Deputy Chief Stephen Raynis tells Everyone Goes Home Safety Summit how department is changing culture
---
By Jamie Thompson
FireRescue 1 Senior Editor
EMMITSBURG, Md. — Over the past 70 years, the number of LODDs suffered by the FDNY has been drastically reduced.
From 1941 to 1960, an average of 9.25 firefighters lost their lives in the line of duty. Over the next 20 years, it dropped to 8.25. From 1981 to 2009 — excluding the September 11 terrorist attacks — the department has averaged 2.04 fatalities annually.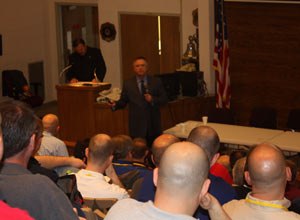 But it's still not enough, according to the department — and it is on a mission to transform its safety culture.
"We can't tell anybody it's acceptable — two LODDs a year is two too many," Deputy Chief Stephen Raynis told the 2010 Everyone Goes Home Safety Summit in Emmitsburg Saturday.
Chief Raynis serves as Chief of Safety at the FDNY and helps lead its Safety Command and Inspection Services. It is responsible for producing fatal fire investigative reports, implementing a computerized injury reporting system, managing both accident and near miss reporting systems, and issuing daily safety messages.
Chief Raynis told the summit its main functions are ensuring operational safety on the fireground and emergencies, investigate injures and fatalities of members, and investigate major accidents.
"The message we want to tell everybody is not to tell you to stop doing your job – our job is to save lives, that's why we become firefighters," he said. "But we are not going to put ourselves in harm's way if we don't have to."
New terms
Chief Raynis said they wanted to move away from terming firefighting as a "dangerous profession."
"Let's start thinking about firefighting as a risky profession," he said. "If risky, then there are risk management principles we can implement. If implementing those risk management procedures, we will have everyone going home safely."
The FDNY is fully committed to the 16 Firefighter Life Safety Initiatives that were drawn up as part of the National Fallen Firefighters Foundation's Everyone Goes Home program in Tampa, Florida, in 2004, Chief Raynis said.
"This summit (in Tampa) is going to go down in history as how the fire service got better and reduced LODDs and injuries," he said. "This was history in the making."
The summit was told that among the safety messages the department is delivering to its members is awareness of the "toxic twins" — carbon monoxide and cyanide.
"We are trying to get the message out that it's not only carbon monoxide that's bad for you, it's the toxic twins — cyanide is a big part of smoke," Chief Raynis said.
He said while a couple of bad smoke hits may not kill firefighters, exposure over a number of years and even decades will eventually take its toll.
"Our goal here is not only to go home but to continue — there's life after retirement," he said. "We want you to enjoy your pension."
Seat belt messages
In recent months, the FDNY has also been delivering a blunt "buckle up" message via stickers that are placed on the inside of every door on apparatus, Chief Raynis said.
"We have got to get guys wearing seat belts," he said. "When you sit on the rig, 'buckle up' is going to smack you in the face. We have all got excuses but there are no valid excuses. We are constantly in their faces about wearing seat belts."
The summit was told one of the key areas for Safety Command is to thoroughly investigate all firefighter fatalities, injuries and near misses.
Attendees learned how a team of safety-trained battalion chiefs are assembled to conduct the investigation and then compile a comprehensive report to the fire commissioner and chief of department with recommendations.
The report is then distributed to all units as a learning tool in order to prevent a similar accident from occurring in the future.
"We are as transparent as possible," Chief Raynis said. "If we have to tread on someone's toes, then we do it. If you've made a mistake, let's learn from it and move forward."