Pa. city revamps junior firefighter program
The program that trains teens between the ages of 14 and 17 is accepting new members after a few years of dormancy
---
Renatta Signorini
Tribune-Review, Greensburg, Pa.
JEANNETTE, Pa. — Isaiah Derry remembers his first fire.
The adrenaline started pumping when the Jeannette boy heard the call over his pager. He got to go inside a North Second Street home after flames were extinguished and then help his fellow firefighters clean up.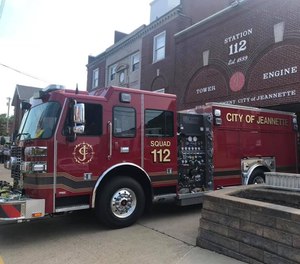 Derry, 14, is one of three teenagers recently hired under the city fire department's revamped junior firefighter program.
"It's good experience, and just to see Jeannette grow with juniors is very good," he said.
The department's junior program has a storied history — it started in the 1970s and has produced numerous firefighters who continue to volunteer at departments in the area and others who make a living fighting fires. Jeannette fire Chief Bill Frye is one of them.
He and a group of friends hung around the fire station as young kids and later joined the junior program, learning the ropes of fighting fires and helping motorists involved in crashes. After a few years of dormancy, the department's program is accepting new members who will be paid $100 annually.
"We have several members still in the fire department today who came through the junior firefighter program," Frye said. "Basically, we get a four-year head start."
Samantha Pilkington, 16, has that head start under her belt — she's been going on fire calls with her father, Gary, for years. Now, as a junior firefighter, she is working alongside him instead of sitting in the car watching. Pilkington is more interested in working with an ambulance.
"I just like first responding," she said.
Jeannette's junior program accepts 14- to 17-year-olds who live in the city. Junior firefighters
operate under strict regulations that forbid them from entering a burning building or assisting at a crash scene on a state road, among other restrictions. They also must abide by time limits based on age for when they can respond and for how long.
Once a junior firefighter turns 18 or graduates from high school, they can become a senior firefighter. Also hired recently as a junior was Marcus Wise, 16.
"It teaches them responsibility, compassion for the other residents of the city," Frye said. "Also, it can prepare them for a career."
Such programs have been valuable for other area departments.
"If you can get them hooked early and they stay around the area, they're a great asset," said Adamsburg fire Chief Don Thoma.
The volunteer department has two junior firefighters, two more who are transitioning into seniors and several other members who came through the pipeline.
"They tend to stay with it if you get them early," he said.
———
©2019 Tribune-Review (Greensburg, Pa.)
McClatchy-Tribune News Service