Cumins unveils 15-liter engine for emergency vehicles
The engine includes air-handling systems and engine braking improvements
---

SAN ANTONIO — Cummins Inc. released it 2017 X15 Performance Series engine at Fire-Rescue International 2016. The X15 was designed to meet the performance needs of fire and emergency apparatus. 
Emergency vehicle calibrations maintain maximum performance even when an emissions-related fault is triggered or the aftertreatment system is regenerating. When the X15 is paired with a Cummins Onan generator, the Cummins service network is the single source for maintenance, parts and service for both engine and generator.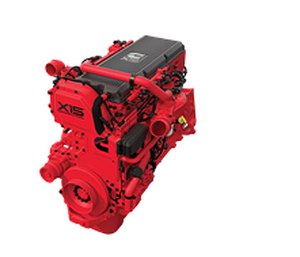 The series is rated from 505 to 600 horsepower and has an upgraded high-flow air-handling system provides faster response. Peak torque of up to 1,850 pound feet is delivered across a wide engine rpm range, as low as 1,150 rpm. 
The engine braking includes up to 600 bph, for added control in traffic or on downhill grades. Ten percent additional braking power below 1,700 rpm further reduces service brake wear, downtime and replacement costs. 
The X15 has an optimized cam profile to minimize inherent parasitic loss during combustion. Additional engine efficiencies have been realized by minimizing friction losses throughout the X15, specifically in the water pump, gear train, lube system, piston and Exhaust Gas Recirculation system. 
Designed by Cummins Emission Solutions, the single module aftertreatment is up to 40 percent lighter and up to 60 percent smaller. Installation advantages are matched by easier serviceability and a diesel particulate filter, with 50 percent more ash-holding capacity. Integral to the system are the latest Cummins diesel exhaust fluid doser and a new compact mixer design, resulting in a more precise spray pattern, to minimize DEF consumption. 
Also included in the new platform is a impactor breather that eliminates the need to replace the coalescing element in the crankcase breather; a single drain plug ensures that all oil is drained and reduces the time to change oil; and improvements to the power cylinder, resulting in 40 percent lower oil consumption.