2 FFs in critical condition after NM fireworks explosion
The firefighters were inside a storage warehouse packaging fireworks for the Fourth of July display when the explosion happened
---
By FireRescue Staff
ROSWELL, N.M. — Two Roswell firefighters remain in critical condition after the fireworks storage explosion earlier this week.
The firefighters were airlifted to a trauma center and the 10 firefighters with minor injuries were treated on scene, KOAT Action 7 News reports.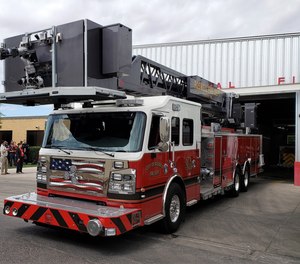 Jeff Stroble, 46, has been with the department for 17 years and Robert "Hoby" Bonham, 36, has been with the department for 18. They were inside a storage warehouse packaging fireworks for the Fourth of July display when the explosion happened, New Mexico State police said.
The Bureau of Alcohol, Tobacco, Firearms and Explosives, New Mexico State Police, FBI and the State Fire Marshal are investigating the explosion, but the cause is yet unknown.
The community held a vigil for the firefighters at a local stadium.  
"It just showed the togetherness and the support and unity within the community, to come support a couple of our own," Todd Wildermuth, a spokesperson for the department, said. "From all of us who work for the city, to all the citizens in general, we are very concerned for the health and recovery of the firefighters. We ask that everyone just keep them in your prayers."
The Pioneer Bank is accepting donations for a fund that was set up to help the firefighters.