Video: Massive parking lot fire destroys over 400 vehicles
Over 160 firefighters responded to the music festival parking lot blaze in Portugal
---
CASTELO DE VIDE, Portugal — A massive fire spread across the parking lot of a music festival in Portugal and destroyed 422 vehicles, authorities said.
The fire started around 3 p.m. Wednesday, forcing 4,000 concertgoers to evacuate the venue.
No victims were reported, says the Portugal News.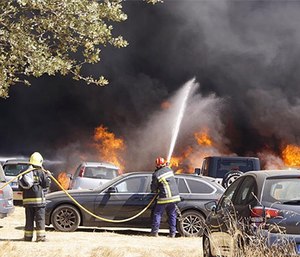 The response effort included 160 firefighters, 62 support vehicles and four helicopters dousing fire-retardant chemicals over the lot.
Despite its massive size, firefighters took just under an hour to control the 118-acre fire.
Authorities are still investigating the cause of the blaze.