NYC firefighter killed battling fire on movie set
Firefighter Michael Davidson, 37, was operating the fire hose nozzle in the basement when fire conditions intensified and he became separated from other firefighters
---
By FireRescue1 Staff
NEW YORK — An FDNY firefighter died Thursday after battling a 5-alarm fire that broke out in a former jazz club that was being used as a film set in Harlem.
U.S. Fire Administration reported that firefighter Michael Davidson, 37, with Engine Company 69 in Manhattan, was operating the fire hose nozzle in the basement of the building when fire conditions intensified. He later became separated from other firefighters.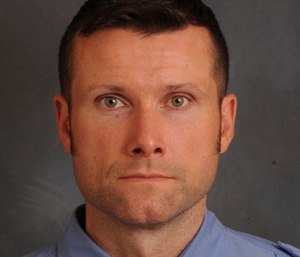 Davidson, a 15-year veteran, was removed from the building and taken to a hospital, where he died. Two other firefighters were seriously injured while battling the fire.
"Firefighter Davidson bravely battled many fires and responded to countless calls for help from New Yorkers throughout his 15 years of dedicated service," Commissioner Daniel Nigro said. "Our department and our entire city mourn this tragic loss of a very brave firefighter."
Davidson is survived by his wife and their four children; three daughters, ages 7, 3 and 1, and a son, age 6.
The fire started as the crew of "Motherless Brooklyn," a film directed by Edward Norton and starring Bruce Willis, Willem Dafoe and Alec Baldwin, was nearing the end of its working day at 11 p.m. Thursday.
The cause of the fire remains under investigation. Funeral arrangements are pending.
Picture of building where Hamilton Heights fire broke out. You can see film crew truck in front of building, crews were working on movie starring Edward Norton in unoccupied building. 5-Alarm fire started in basement, killing @FDNY firefighter Michael Davidson. pic.twitter.com/kZyt6lKXU6

— Liz Dahlem (@lizdahlem) March 23, 2018