'Nothing can prepare you mentally' says Orlando paramedic after mass shooting
Over 100 of the nearly 200 employees came into work during and after the shooting
---
By David Harris
The Orlando Sentinel
ORLANDO, Fla. — Rafael Comas remembers every detail down to the second while he was responding to the chaotic scene of the Pulse nightclub.
Comas is a paramedic for Rural Metro Ambulance and was working the night of the shooting that left 49 dead and more than 50 injured on June 12.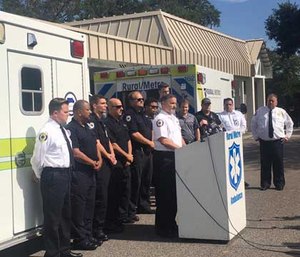 "It was very traumatic and very stressful but we train for that," said Comas, who has been a medic for nearly 20 years. "We put ourselves [through] that type of training so we can respond correctly to that situation."
Paramedics declined to get into detail about what exactly they saw that night, citing the FBI's ongoing investigation.
Ambulances arrived on scene 3 minutes after the initial call, said General Manager Larry Marshall. In all 8 ambulances responded, with one as far away as Winter Garden.
The ambulances arrived at the staging area and transported 14 patients to Orlando Regional Medical Center, Marshall said.
Comas said his training kicked in as soon as he arrived on scene.
"We train our minds, we train our bodies," he said. "We mentally prepare for the worst. But nothing can prepare you mentally for an event like this."
Medic Lucas Slowik was in Winter Garden and rushed to the scene.
At the time, he didn't know the extent of the tragedy.
"You know you have a job to do, you don't really think of anything else," he said.
The paramedics are receiving counseling to help them cope with the situation.
It will stick with them for years to come.
"We're human – we cry, we laugh," Comas said. "We train to move on but it's still in our head."
More than 100 employees of the nearly 200 came into work over the day and into Sunday night.
They also helped with taking some of the patients already at ORMC to other hospitals so it could handle those with more serious injuries.
They worked at the scene with Orlando Fire Department and Orange County Fire Rescue.
"We're very proud to have been involved with such a great team," said Tom Diaz, the regional manager for the company.
Law enforcement had an active shooter and mass casualty incident training in March at Mall at Millenia.
Marshall called it "very similar" to the real-life event at Pulse.
"At some point, your training just kicks in," Marshall said.
Orange County Sheriff Jerry Demings said there were also training scenarios with the Department of Homeland Security in 2013 and 2014. One was a mass casualty incident at the Orange County Convention Center.
"For years now, we have prepared to respond to a terror event," he said.
Orlando police Chief John Mina said the scenarios helped prepare them for Pulse.
"I knew our officers were ready, I knew our SWAT teams were ready, I knew our hospitals were ready," Mina said.1
Copyright 2016 The Orlando Sentinel